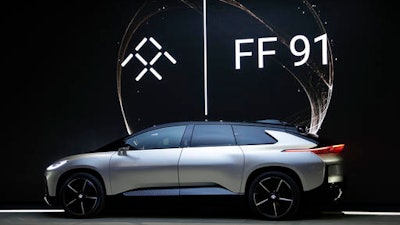 AP Photo/Jae C. Hong
LAS VEGAS (AP) — Upstart vehicle company Faraday Future showed its prototype electric car at the CES gadget show in Las Vegas, amid renewed promises to have cars rolling off a new $1 billion assembly line in southern Nevada in 2018.
A demonstration on Tuesday featured the company's four-door, 1,050-horsepower FF 91 model clocking 0-to-60 mph times against Bentley, Ferrari and Tesla vehicles. Faraday Future officials say the car's battery allows a travel range of up to 378 miles. A selling price wasn't disclosed.
Company spokesman Richard Otto said Wednesday that with the presentation behind it, Faraday Future is turning attention back to construction of its 3 million-square-foot production factory at the Apex Industrial Park site in North Las Vegas.
"We plan to start the next phase of construction in early 2017," Otto said in an email.
Work was suspended in November with company officials saying at the time they wanted to direct money and attention to developing the concept car for the consumer electronics convention.
Nevada pledged up to $335 million worth of incentives to attract Gardena, California-based Faraday Future, after Gov. Brian Sandoval called Nevada lawmakers to a special Legislative session to approve the package. It includes $215 million in tax breaks for the company and $120 million in infrastructure improvements.
The governor and Steve Hill, his chief economic development chief, say the state will be protected if the project fails.
Faraday Future doesn't earn tax abatements until it has invested $1 billion, Hill said, and the state won't issue bonds to fund infrastructure without security.
Bond funding isn't expected to occur until later this year, and it will need approval by the state Board of Finance. The five-member board is chaired by the governor and includes state Treasurer Dan Schwartz, Controller Ron Knecht and two appointed members.
Schwartz has been a vocal critic of the Faraday Future project, its financial backer and state efforts to have the factory built in an economically struggling community.
Company officials at the Consumer Electronics Show demonstration included billionaire financier Jia Yueting, founder and chief executive of the Chinese conglomerate LeEco, and Faraday Future executives Nick Sampson, Richard Kim and Peter Savagian.
Sampson said that despite those he called naysayers and the skeptics, the company will persist.