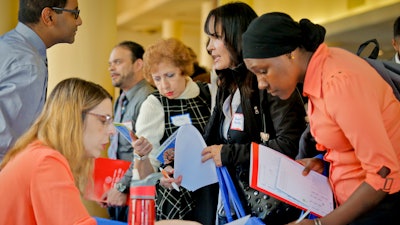 AP Photo/Bebeto Matthews
WASHINGTON (AP) — U.S. employers posted slightly more job openings in September, a likely sign that the steady job gains of recent months could continue.
The Labor Department said that job openings edged up to 5.49 million in September, a modest increase from 5.45 million openings in August. Openings had plunged to an eight-month low in August.
The data affirms recent evidence that hiring has been more tempered after setting a robust pace of the prior two years. Still, the economy is generating enough jobs to reduce unemployment and boost incomes. And most economists have expected monthly job growth to slow as the number of unemployed has decreased.
Openings increased in September in construction, manufacturing and financial activities, among other sectors. However, openings slipped at restaurants and in the logistics sector.
Hires dipped to 5.08 million in September, a 3.5 percent increase, but workers seem hopeful enough about finding work that more of them are quitting.
The number of people who quit their jobs increased between August and September to nearly 3.1 million, but over the past year the number of people quitting their job has climbed 11.7 percent.
Quitting is often an indicator that Americans are confident about the job market and their chances of finding better-paying work. This is why many economists view an increase in quits as helping to push up wages.
The figures come after last Friday's jobs report, which showed that employers added 161,000 jobs in October. The unemployment rate ticked down to 4.9 percent. Average hourly earnings have climbed 2.8 percent over the past 12 months, the biggest gain in seven years.
The report released Tuesday, known as the Job Openings and Labor Turnover survey, or JOLTS, offers a fuller view of the job market than the Friday employment numbers.