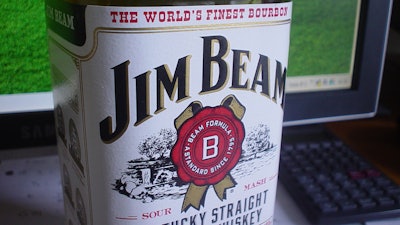 Flickr
LOUISVILLE, Ky. (AP) — Whiskey workers at two Jim Beam distilleries in Kentucky have threatened to walk off their jobs as efforts to ratify a new contract soured ahead of a looming deadline at the world's largest bourbon producer.
Members of the United Food and Commercial Workers Local 111D voted 201-19 on Tuesday evening in favor of going on strike at Beam distilleries in Clermont and Boston, Tommy Ballard, a UFCW international representative, said Wednesday.
The current contract runs through Friday, and Beam Suntory officials said production continued as usual Wednesday. The classic American whiskey brand is owned by Suntory Holdings Ltd., a Japanese beverage company.
Bargaining stretched for weeks to develop the contract offer that workers rejected. That outcome came as a surprise to the company, and Beam Suntory said it was trying to understand the reasons the proposal was turned down. Company executive Kevin Smith said the offer included wage increases along with other enhancements, including elimination of a two-tiered wage system for almost all employees.
"While we have not been advised of any specific objections to the proposal, we are committed to resolving this matter expeditiously," Smith said. "We greatly value our teams at these facilities, and we look forward to working with the union leadership to help ensure a full understanding of the proposal by the union membership. Ultimately, we hope the employees will reconsider and support this agreement."
Ballard declined comment on the vote by union members, and another union official did not immediately return calls Wednesday.
Kentucky is home to about 95 percent of the world's bourbon production, and both the bourbon and whiskey industries are enjoying growing sales worldwide, in part driven by higher demand for premium spirits and cocktails. The resurgence has brought an era of smooth relations between management and labor in Kentucky's whiskey sector.
"In general, it's been a relatively collaborative situation the last few years," said Fred Minnick, a bourbon author and historian.
Kentucky's $3 billion bourbon industry generated about 15,400 jobs with an annual payroll of $707 million, according to a 2014 report released by the Kentucky Distillers' Association. Last year, the state's bourbon production swelled to a nearly 50-year high, with bluegrass state distilleries filling nearly 1.9 million bourbon barrels, the highest number since 1967, and 44 percent above the pace in 2014.