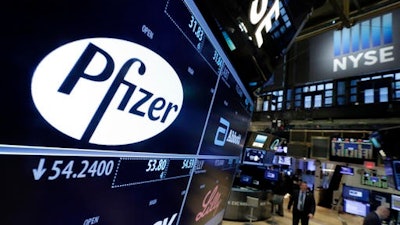 AP file
Pfizer will not split into two publicly traded companies, a decision that, at least for now, ends Wall Street speculation over the drugmaker's future.
The company said Monday it believes it is best positioned to maximize shareholder value in its current form, but it reserves the right to split in the future if the situation changes.
The maker of Viagra and the pain treatment Lyrica has been talking about a split for several years, thinking that two companies might grow faster than one. It had said it would make a decision by the end of this year.
Chances of the breakup actually taking place began to fade over the summer due in part to rising sales for key new drugs from Pfizer and rising prospects for its drugs under development.
Pfizer CEO Ian Read told analysts last month that the prospect of a split was not a "make-or-break decision" for the company.
The company said Monday that a split would not help the competitive positioning of its businesses, and such a move would create disruptions and increased costs.
The drugmaker's most likely path forward involves hunting for more acquisition targets, according to Bernstein analyst Dr. Tim Anderson.
Pfizer has been buying several companies and products to help make up for a wave of sales losses to cheaper, generic competition, most notably for the cholesterol pill Lipitor. It also attempted and failed at two mega-acquisitions, first of Britain's AstraZeneca Plc and this year of Ireland's Allergan Plc.
Last month, it said it would spend about $14 billion to buy cancer drug developer Medivation, and it was buying rights to AstraZeneca's portfolio of approved and experimental antibiotic and antifungal pills.
In June, Pfizer completed a $5.2-billion acquisition of Anacor Pharmaceuticals Inc., which could get a new eczema drug, crisaborole, approved by January.
"A critic could argue that Pfizer is back to being the same old Pfizer as before, relying on (mergers and acquisitions) to grow and to refill its pipeline, but at the expense of growing larger in the process depending on the size of deals it chases," Anderson said in a research note.
Shares of Pfizer Inc., based in New York, slipped 48 cents, or 1.4 percent, to $33.78 in premarket trading Monday. The stock had climbed about 6 percent so far this year, as of Friday.