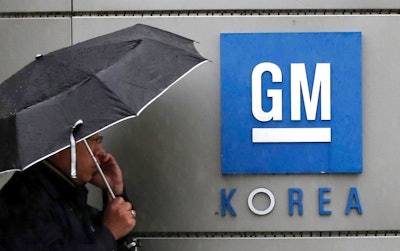 SEOUL, South Korea (AP) — General Motors said Monday that it has reached a tentative agreement with its South Korean labor union on measures to cut costs and allocate new car models to GM Korea factories.
The agreement between GM and its union steers the American carmaker away from filing for bankruptcy protection for its loss-making Korean unit. It also paves the way for support from the Korea Development Bank, which holds a 17 percent stake in GM Korea.
The union will vote on the deal later this week.
"Ratification of the tentative agreement is critical to our viability plan and securing support of the Korean government and our shareholders, KDB and GM," GM Korea CEO Kaher Kazem said in a statement. "The labor union has demonstrated its commitment and we continue to work with our other key stakeholders to gain their support."
The agreement reached by GM and its union after 14 rounds of negotiations calls for freezing wages and canceling bonuses this year and cutting some benefits. GM will allocate production of new models of sport-utility vehicles to two local factories to stabilize their operations. Those models are "important new products" with big production volume that will be mostly shipped abroad, Barry Engle, GM's executive vice president told reporters.
The GM Korea union did not immediately respond to requests for comment. The labor union shared part of the transcript from the final negotiations on its website where its union chief said that he will not forget how the company unilaterally pressured the workers to make concessions, warning that could be an obstacle in the company's path to recovery.
GM shocked South Korea when it announced in February that it plans to close one of four Korean factories in Gunsan by May as part of a broader restructuring plan.
Since the shutdown was announced, about 2,600 GM Korea workers, or 16 percent of its 16,000 South Korean workers, have agreed to leave the company in a voluntary severance program including 1,100 employed at Gunsan factory. One of the biggest sticking issues between GM and the union during their protracted negotiations was what to do with 680 Gunsan workers who did not want to leave the company.
The two parties agreed to work toward resolving that issue by sending them to other plants and encouraging other workers to voluntarily leave GM.
To keep its Korean unit afloat, GM is seeking investment and tax incentives from South Korea's government, which controls the Korea Development Bank. The government will decide on injecting fresh funds into GM Korea after reassessing its finances and outlook.
The government said Monday that it respects the agreement between GM and the union. It said it would speed up due diligence under way to find ways to put GM Korea on track for recovery.
GM struggled in South Korea as its cars lost popularity in the domestic market and its exports and profit margin fell. Since GM's acquisition of Daewoo Motor Co. in 2002, South Korea has served as an Asian manufacturing hub for GM, mainly producing small and compact cars.
But GM's recent restructuring of its overseas businesses, especially its decisions to stop selling mainstream Chevrolet models in Europe, to sell its Opel and to stop selling cars in India, hurt its South Korean unit, which produced cars for the European markets and parts to be sent to emerging countries for assembly.