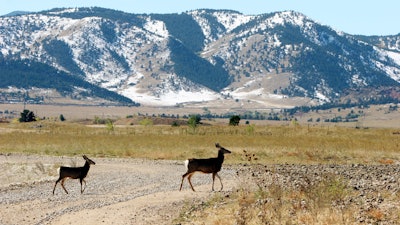 AP Photo/Ed Andrieski, file
DENVER (AP) — Thousands of homeowners have reached a $375 million settlement over their claims that plutonium releases from a nuclear weapons plant in Colorado damaged their health and devalued their property, officials said Thursday. A federal judge must approve the agreement before it officially ends the 26-year legal battle between the residents and two corporations that ran the Rocky Flats plant for the federal government.
Perched on a wind-swept mesa west of Denver, Rocky Flats manufactured plutonium triggers for nuclear warheads until it closed in 1989 because of safety and environmental concerns. It's the most prominent of Colorado's Cold War relics, which also included a nerve gas manufacturing site east of Denver.
Few details of the settlement were available. The lead attorney for the plaintiffs, Merrill Davidoff, said the agreement has been submitted to the judge overseeing the case but no documents have been made public. Davidoff said he couldn't comment further and that none of the individual plaintiffs wanted to speak. The agreement was first reported by The Denver Post.
The lawsuit, filed in 1990, named Dow Chemical Co. and Rockwell International Corp., which operated the plant for the Energy Department. Dow was in charge from the 1950s until 1975, when Rockwell took over and ran it until it closed. Dow and Rockwell Automation — which emerged as a co-defendant after sales and spinoffs at Rockwell International — both said they expect the Energy Department to repay them in full for their share of the settlement.
The Energy Department said in a statement it is liable for some claims, but spokesman Bart Jackson could not immediately say whether it would be the full amount. The companies said Rockwell's share was $244 million and Dow's was $131 million. "Dow believes this settlement is the right decision for the company and its shareholders," company spokeswoman Rachelle Schikorra said.
The lawsuit took years to go to trial. In 2006, a jury found the companies had damaged nearby land and hurt residents' health. In 2008, a judge ordered the companies to pay a combined $925 million. An appeals court overturned the verdict and the award on Sept. 3, 2010, saying the homeowners hadn't proved that plutonium releases from the plant had hurt their health or their property. The court said a decline in property value can't be considered damage.
The case had been appealed to the Supreme Court, but the appeal has been dropped. After a $7 billion cleanup that took 10 years, most of the 8-square-mile property became a wildlife refuge managed by the U.S. Fish and Wildlife Service. The most heavily contaminated area remains off-limits to the public.