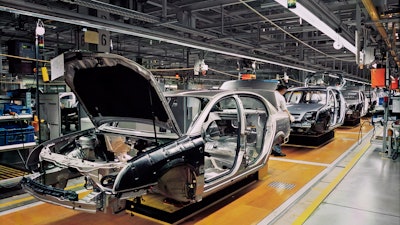 Economic growth is expected to continue in the U.S. throughout the remainder of 2016, say the nation's purchasing and supply executives via the Spring 2016 Semiannual Economic Forecast offered by the Business Survey Committee of the Institute for Supply Management. The forecast was presented by Bradley J. Holcomb and by Anthony S. Nieves, and included the following:
50 percent of respondents predict revenues will be 10.5 percent greater in 2016 as compared to 2015; 18 percent expect a 14.2 percent decline and 32 percent foresee no change in revenue. This yields an overall average forecast of 2.8 percent revenue growth among manufacturers for 2016. This current prediction is 1.3 percentage points below the December 2015 forecast, but is 1.4 percent above the actual revenue growth reported for all of 2015.
Operating capacity is at 81.7 percent (which is 2.2 percent higher than one year ago.) Production capacity in manufacturing is expected to increase 3.0 percent in 2016. This increase is greater than the 2.8 percent increase predicted in December 2015, and also greater than the 1.9 percent increase reported in December for all of 2015. 38 percent of respondents expect an average capacity increase of 10.9 percent, seven percent expect decreases averaging 15.6 percent, and 55 percent expect no change.
30 percent of respondents predict increased capital expenditures in 2016, with an average increase of 24.3 percent; 21 percent said their capital spending would decrease an average of 29.2 percent; 49 percent say they will spend the same in 2016 as they did in 2015.
When asked to predict 2016 price changes, 39 percent of respondents expect the prices they pay to increase by 4.9 percent for the full year of 2016 compared to the end of 2015. At the same time, 25 percent anticipate decreases averaging 5.2 percent; 36 percent expect no change in price.
Survey respondents forecast that manufacturing employment will remain at the current level through the end of 2016.
Expectations are for increased revenues in 2016 as purchasing and supply management executives indicate an overall net increase of 2.8 percent in business revenues for 2016 over 2015. Among the industries reporting expectations of growth in revenue for 2016 are: Fabricated Metal Products; Furniture & Related Products; Nonmetallic Mineral Products; Transportation Equipment; Plastics & Rubber Products; Chemical Products; Food, Beverage & Tobacco Products; Wood Products; Primary Metals; Textile Mills; Computer & Electronic Products; Electrical Equipment, Appliances & Components.
Fifty-three percent of non-manufacturing executives expect their 2016 revenues to be greater by 8.5 percent as compared to 2015. Overall, non-manufacturing respondents currently expect a 2.4 percent net increase in overall revenues, which is less than the 2.7 percent increase that was forecast in December.

To view the full report, click here.