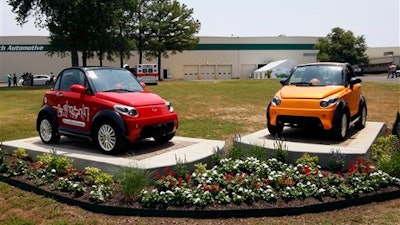 AP Photo/Rogelio V. Solis, File
JACKSON, Miss. (AP) — An electric car company that once said it planned to build 250,000 cars a year and invest $2 billion in an impoverished corner of Mississippi's Delta region is in trouble because it hasn't lived up to an agreement requiring it to hire 350 employees.
Mississippi state officials say they are renegotiating an incentive agreement with GreenTech Automotive, a unit of Virginia-based WM Industries, after the electric car maker failed to reach employment targets. Tunica County officials also have not granted agreed-on property tax breaks.
"The company has started production, but has yet to reach the job threshold," Mississippi Development Authority spokesman Jeff Rent wrote in an email to the Associated Press late last month. "The state is working with the company to best protect the state's investment and to keep Mississippians employed at the facility working in Tunica."
Rent said state officials don't know by how much the company missed its employment goal. Tunica County officials said last week they knew little, and in an email last week, GreenTech Senior Director of Global Sales Dennis Carter declined to answer questions about the company's current worker or investment totals.
Rent said Thursday that the company asked to renegotiate in 2014. GreenTech's first debt payment of more than $150,000 to the state is due June 30.
The state has invested at least $5 million in GreenTech. That includes loaning the company $3 million and loaning Tunica County $1.9 million to buy the site. The company has also been certified for a state tax break that exempts it from state income and franchise taxes for 10 years, and from sales taxes on initial equipment and machinery. In addition, Mississippi officials had planned to direct $3 million in federal community development money to improve the site. But the company began moving dirt before obtaining proper permits, and state officials told GreenTech the company had disqualified itself.
GreenTech sought to raise much of its money from Chinese citizens seeking to obtain permanent residency in the United States. Documents released earlier by the U.S. Citizenship and Immigration Service showed more than 31 Chinese citizens had agreed to invest $500,000 apiece through early 2013. USCIS rules say that investment and creating 10 jobs can qualify someone for permanent status after two years.
Gulf Coast Funds Management LLC, which shares a McLean, Virginia, office with WM Industries, raised the money. Democratic Virginia Gov. Terry McAuliffe's former investment with GreenTech was attacked by Republicans in 2013 as he campaigned for office, and the involvement of Hugh Rodham, the brother of Hillary Clinton, in Gulf Coast Funds also brought scrutiny.
McAuliffe has said he has fully divested his financial interest in GreenTech. He resigned as the firm's chairman in December 2012.
The inspector general of the U.S. Department of Homeland Security found last year that the department's current deputy secretary, Alejandro Mayorkas, violated agency ethics policies but didn't break any laws when he intervened in visa proceedings for GreenTech and two other projects. Mayorkas has denied he influenced any agency decisions for political purposes.
GreenTech was supposed to employ 350 workers with yearly salaries of at least $35,000 apiece by the end of 2014. A group photo of employees in a promotional video released earlier this year shows about 75 people on the factory floor in Robinsonville. The company was also supposed to invest $60 million by then. The company hasn't said how much it has invested.
The company makes a diminutive two-seater called MyCar, limited to streets with speed limits of 35 mph and below in the U.S. Four-door sedans are also appearing in a parking lot outside the Tunica County factory, although it is unclear where GreenTech is selling them. The company also is selling small gas-powered trucks and vans made elsewhere.
Tunica County Tax Assessor-Collector Norma Anderson said the Board of Supervisors has never voted to grant a tax break that would cut GreenTech's $160,000-a-year property tax bill by about 40 percent. Anderson said she has never sent GreenTech its bill for last year's taxes, even though it has been overdue and accruing interest since February, because of supervisors' failure to act.
The inaction appears to stem from complaints that GreenTech and other factories recruited to Tunica in recent years have mainly hired people who live outside the 11,000-resident county.
"At some point, I'm sure people are going to have to come to the table and discuss what they're going to do in terms of local jobs and a training-type program," county attorney John Perry said.