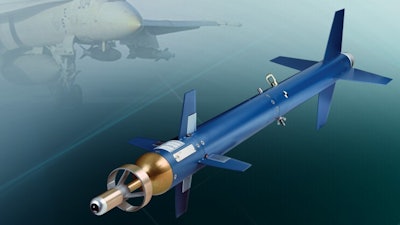 Lockheed Martin
Lockheed Martin has received a $25.8 million contract from the U.S. Navy to produce Enhanced Laser Guided Training Rounds (ELGTR).
Under the contract, Lockheed Martin will deliver ELGTRs, as well as refurbish reusable shipping containers and provide associated technical data, extending ELGTR production into late 2018.
The award represents the last of four options under the $84.5 million ELGTR indefinite delivery/indefinite quantity (ID/IQ) contract received in 2013.
"The U.S. Navy and 10 international partner countries rely on ELGTR for their Paveway II Laser Guided Bomb training programs," said Joe Serra, precision guided systems program director at Lockheed Martin Missiles and Fire Control. "ELGTR ensures U.S. and allied warfighters can hone their skills in order to maintain mission readiness."
Recognized worldwide as the only live-fire training solution for warfighters, ELGTR emulates flight characteristics of Paveway II laser-guided weapon systems and presents pilots with the same information they would see during an actual mission.
Lockheed Martin has produced more than 150,000 advanced training rounds for the U.S. Navy, Marine Corps and international customers. The ELGTR is compatible with F/A-18, AV-8B, F-16 and various international aircraft platforms.
In addition to ELGTR, Lockheed Martin's 350,000-square-foot production facility in Archbald, Pennsylvania, designs and manufactures combat-proven Paveway II Plus Laser Guided Bomb (LGB) kits.
More than 75,000 LGB kits and 7,000 Dual Mode LGB kits have been delivered to the U.S. Navy, Marine Corps, Air Force and 20 international customers.