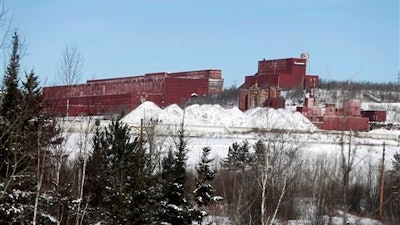 AP Photo/Jim Mone
AURORA, Minn. (AP) — It's been almost 10 months since an iron plant closed near Aurora, a century-old mining community in northeastern Minnesota. The only dentist retired in June, and nobody would take over his practice. The only drug store closed in August. And in January, the town of 1,600 residents lost its only grocery store.
A global steel industry slump with roots in China's economic slowdown has thrown a painful series of punches to a part of the state that produces most of America's iron ore. And the domino effect of the layoffs is particularly visible in Aurora, nestled in the snowy forest on the east end of the Mesabi Iron Range.
"We are definitely in trying times and we need somebody to listen. This is real. This is very, very serious," said David Lislegard, a city council member who was a third-generation miner until his plant closed permanently in 2001. His wife lost her job when Aurora Drug became just another vacant downtown storefront.
Three of Minnesota's six iron mines are idle, resulting in more than 2,000 direct layoffs in the past year. Those are blue-collar jobs that can pay $60,000 or more, and the aftershocks from the shutdowns have cost the regional economy more than 3,000 other jobs.
Though mineworkers get extended unemployment payments and retraining under a federal program for people hurt by foreign trade, people who've lost jobs at mine vendors, suppliers and other companies don't — and their benefits are starting to run out. As money gets tighter, there's new urgency to the state's long-running efforts to make the area's economy less dependent on a single industry.
Minnesota is by far America's largest iron ore producer, ahead of Michigan. Its mines yield a low-grade ore known as taconite, which is processed into higher-purity pellets that are shipped to steel mills around the Great Lakes. Minnesota supplied most of the iron that became the steel in America's ships and armaments in World War II.
While the Iron Range has long endured booms and busts, they've normally tracked with the broad economy. This time, steel companies, economists, and union and political leaders blame the slump on the dumping of cheap subsidized Chinese steel on U.S. markets.
"I don't know where the future of mining is for the Iron Range and nobody has answers for that right now," said Joe Abeyta, of Grand Rapids, an Iraq War veteran who's caring for his young family instead of running heavy equipment at a mining company at the west end of the Iron Range that recently laid him off.
This downturn is fundamentally different from earlier slumps because the overall U.S. economy is doing well, said Anthony Barrett, an economist at the College of St. Scholastica in Duluth.
There should be strong demand for American steel, he said, but China's internal slowdown has changed the equation. To prop up its own steel industry, it's selling surplus steel abroad at a fraction of production cost, and American steelmakers can't match their prices.
Minnesota leaders pressed the federal government for months to curb China's dumping. President Barack Obama signed legislation tightening fair trade enforcement in late February, and the Commerce Department imposed anti-dumping duties of up to 266 percent on certain Chinese steel products. Amid those actions, China announced plans to shrink its steel industry.
But even with trade relief, taconite faces more challenges over the long haul. Traditional steel mills use the pellets that Minnesota produces, but they aren't pure enough for the more modern mills that dominate the American steel industry.
State officials have labored for generations to diversify the Iron Range economy away from its traditional reliance on the "three T's" — taconite, timber and tourism — but it's been difficult. Major investments in the 1980s in the timber and paper industries produced good jobs for a while, but they didn't last.
Many are pinning their hopes on the region's vast but untapped copper and nickel reserves. The proposed PolyMet mine would be Minnesota's first nonferrous metals operation, but environmentalists are fighting the project, calling it a threat to nearby pristine areas.
Lislegard, 43, lost his job along with 1,400 others when the LTV Steel taconite plant near Hoyt Lakes shut down in 2001, and now he works in construction. On a recent visit inside the cavernous, dark and unheated facility, he could hardly contain his excitement at the prospect of it returning to life as part of PolyMet in the next few years.
"I'm ready for this to fire up right now," he said.
Many older residents of the Iron Range have spent their entire careers riding the ups and downs of the mining economy, including the epic downturn of the 1980s, so today's tough times are all too familiar.
Steve Lere, 62, of Biwabik, is on his fourth major layoff. He's worked for United Taconite and its predecessor on and off since 1978.
"In the past six years we've had a great run. Hiring people. Unlimited overtime. Profit sharing. Life was really good. And then again, 'poof,'" he said.
Abeyta, 35, loved the Iron Range so much that when he visited from Arizona in 2008, he stayed. He was hired in 2012 at Magnetation, a new company that makes high-purity iron from old mine waste.
"Everything looked bright with years and years of mining to come," he said. Now he's getting more training on heavy machinery through his union and going back to school in hopes of staying in mining — and on the Iron Range.
"I could move to the (Twin) Cities and I could find work and take care of my family," Abeyta said as he held his young son. "But this is where I want to raise my family."