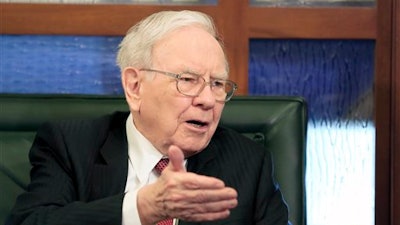 AP Photo/Nati Harnik, File
OMAHA, Neb. (AP) — Billionaire investor Warren Buffett said Saturday that the nation's economy is in better shape than the presidential candidates make it seem, though businesses like his still face challenges.
In his annual letter to Berkshire Hathaway shareholders, Buffett didn't name specific candidates or issues but noted that the negative drumbeat about the economy, health care reform and income inequality may get voters down about the future.
"It's an election year, and candidates can't stop speaking about our country's problems (which, of course, only they can solve)," wrote Buffett, who has endorsed Democratic Hillary Clinton. "That view is dead wrong: The babies being born in America today are the luckiest crop in history."
Buffett struck an optimistic tone in the wide-ranging letter, which largely focused on what contributed to his conglomerate's $24 billion profit last year and discussed Berkshire's prospects for the future. The letter also touched on climate change.
Buffett defended the lending practices at its mobile home unit, Clayton Homes, and Berkshire's association with the 3G Capital investment firm.
Clayton's lending practices have been questioned over the past year in stories by The Seattle Times and The Center for Public Integrity that suggested the company was using predatory lending practices. Buffett said Clayton follows state and federal regulation and retains ownership of every mortgage it finances. He included a copy of a disclosure form Clayton uses to inform customers about lending options.
Berkshire teamed up with 3G Capital to buy Kraft Foods and Heinz — and promptly announced layoffs at both firms. Buffett said Berkshire has always craved efficiency and tends to buy lean companies, while 3G looks for investments that need costs reduced.
Edward Jones analyst Jim Shanahan said Saturday the fact that Buffett devoted space to defending 3G and Clayton suggests he's still hearing criticisms. Buffett has addressed both topics at shareholder meetings in the past.
The letter also noted that Berkshire shareholders will be asked this year to vote on a proposal requiring the company to prepare a report on the threat climate change poses for its insurance operation.
Buffett said it's reasonable to worry about climate change's effect on the world, but it shouldn't hurt insurance companies because policy prices are set annually based on that year's risks.
"As a homeowner in a low-lying area, you may wish to consider moving," Buffett said. "But when you are thinking only as a shareholder of a major insurer, climate change should not be on your list of worries."
Buffett said change can creates challenges for Berkshire. For instance, he said, its BNSF railroad is certain to haul less coal in the future and Geico insurance could be hurt by driverless cars.
He said Berkshire's businesses will adapt just as the company did when its original Berkshire Hathaway textile operation failed. He said Berkshire has an advantage in that it can invest in a variety of industries through its subsidiaries, which agreed to 29 smaller acquisitions worth $634 million last year.
Buffett's letter is one of the most well-read documents in the business world each year because of his successful track record and his knack for explaining complicated subjects in simple terms.
The 85-year-old Buffett has said he has no plans to retire, and he offered no new hints about his future in Saturday's letter — other than to joke about being 100-years-old when he announce Geico's latest successes.
Buffett said the book value of Berkshire's businesses improved 6.4 percent last year even as its stock price fell 12.5 percent. When dividends are factored in, the S&P 500 gained 1.4 percent by comparison.
Berkshire Hathaway employs more than 360,000 people at its eclectic mix of companies, including insurance, utilities, railroad, manufacturing and retail firms. Berkshire also holds significant stakes in Coca-Cola, Wells Fargo, American Express, IBM and other companies.