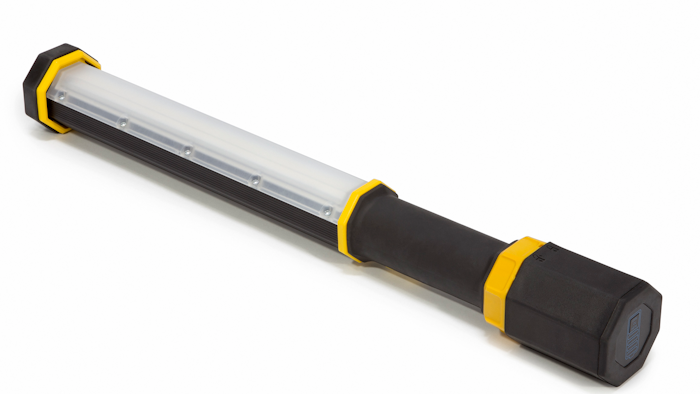 Big Ass Solutions (the parent company of Big Ass Fans, Lexington, KY) is claiming to have created the world's toughest and brightest battery-powered LED work light, and is offering it first through Indiegogo. The Big Ass Light Bar's design and durable construction make it ideal for hardworking Americans in the toughest, dirtiest jobs, and the ability to survive being doused and dropped also makes it ideal for serious outdoor and auto enthusiasts. Features include:
Six distinct brightness settings, from 80 lumens to 5,000 lumens (more than any other battery-powered LED work light).
A 180-degree light angle, which allows Big Ass Light Bar to light entire rooms.
A high-capacity rechargeable battery that provides 1.5 hours of illumination at the brightest setting to 48 hours at the dimmest.
A durable body made from extruded aluminum, as well as high-quality polymers, resins and rubberized components that makes Big Ass Light Bar all but impervious to impact, dust, grime and chemicals.
An IP66 wet rating, which allows Big Ass Light Bar to be scrubbed and hosed down, or used in the rain.
A distinct octagonal shape that prevents Big Ass Light Bar from rolling away when dropped.

 
The Big Ass Solutions team chose to bring the product to Indiegogo to gauge interest and solicit feedback from a broad audience. Funds raised through Indiegogo will be used to make any last-minute changes in product design and to jump start production. Big Ass Light Bar is expected to be available early next year. Early pre-orders and high-volume orders on Indiegogo will receive discounts of 15 to 45 percent.
www.bigasssolutions.com; 877-244-3267