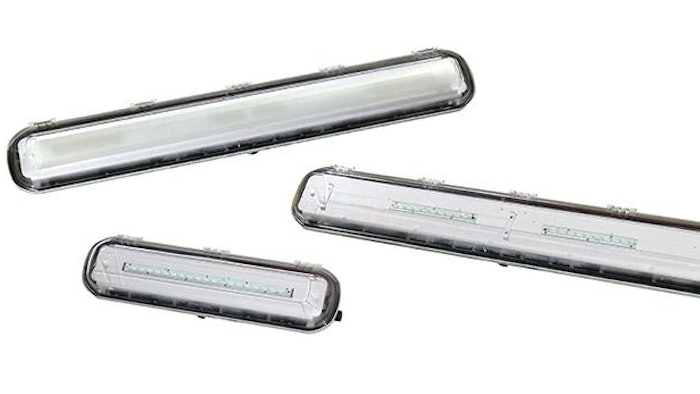 Emerson
Appleton (Rosemont, IL), an Emerson brand, has announced a new FELED Series of non-metallic, explosion-proof linear LED luminaires engineered for harsh and hazardous industrial locations. FELED Luminaires make it easy to replace existing fluorescent fixtures, because they are designed using the same housing and mounting accessories as the company's original FE fluorescent luminaries. Additional features include:
Certification for Zone 1, 2, 21 and 22 hazardous locations — safe for use in petrochemical and chemical processing plants.
An output range of 2,000 to 8,000 lumens.
Uniform bright light and superior color rendering.
A corrosion-resistant, fiberglass reinforced polyester body and hinged polycarbonate lens with elastomer gasket.
Advanced LED thermal management.
Meet a range of ambient temperature requirements from -30°C to 55°C (-22°F to 131°F).
A life rating of more than 60,000 hours of operation.
Availability in both standard and emergency versions in a .785m (2.58 ft) and 1.39 m (4.56 ft)m versions.
For more information, visit www.appletonelec.com.