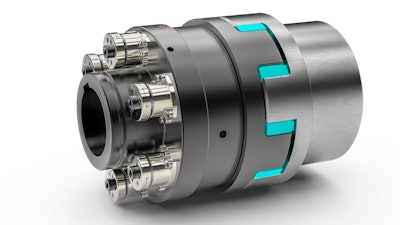 R+W (Bensenville, IL) has recently narrowed the gap between its classic precision and industrial drive safety couplings with the new STE series. Featuring the ball-detent safety element system, which disconnects drivelines within milliseconds of a torque overload event, this version is more cost effective and available in smaller sizes than the standard ST product line of the past. Features include:
Availability in three sizes and can be configured for disengagement torques between 200 Nm to 14,000 Nm.

Customers can individually adjust the safety elements to fine tune the disengagement torque level, or change the number of safety elements to make large adjustments to the disengagement torque range even after installation. This particular model is available in the full disengagement function system, and comes with an optional ring for easier re-engagement.

 

R+W EK elastomer couplings, with a more compact polyurethane insert, saving space and cost for applications without severe vibration.
Elastomer inserts, which can be replaced in the field, providing some vibration damping and compensation for misalignment. Shore hardness is selected by the customer based on the requirements of the application.

 
www.rw-america.com; 630-521-9911