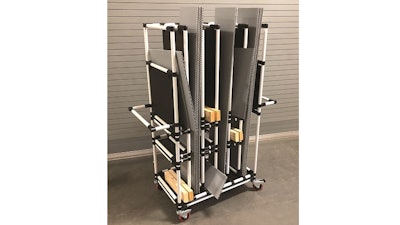 Creform Corporation (Greer, SC) engineers have designed, and built a work-in-process (WIP) cart for an elevator manufacturer that holds small batches of both large and small sheet metal parts as they go through various stages of manufacturing on their way to final assembly. The unique cart features 12 compartments that assist in damage-free handling with easy load/unload. Specifically:
Three of the compartments are especially tall to hold the largest components, while the other nine are built shorter to hold a variety of part sizes.
Each compartment features a robust plastic floor and sturdy panels for part separation and to ensure minimal movement of the parts.
The various cart levels can be easily repositioned and reconfigured depending on the application with only simple tools.
The cart features four 4 in. dia. swivel casters with urethane wheels for easy, stable and safe movement.
Two of the casters have brakes that can be engaged when secured positioning is needed.
The cart shown measures 35" L x 22" D x 56" T and is designed to hold up to 400 lb. Higher capacity and custom cart sizes are possible.
www.creform.com; 800-839-8823