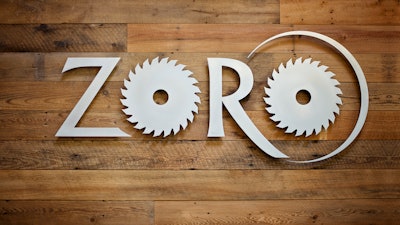 Grainger, which is widely recognized as the largest U.S.-based industrial distributor with annual sales of just over $10 billion, continues to grow their on-line presence. The company attributes more than half of their total sales to on-line transactions, with more than 65 percent of all orders originating on-line. Grainger Chairman and CEO DG Macpherson recently stated that e-commerce transactions could comprise 75 percent of the company's sales by 2023.
Established as a separate business unit, Zoro.com is an on-line only subsidiary of Grainger. Launched in 2011, the site has flourished by focusing on smaller industrial buyers and an expansive line card that encompasses 1.9 million unique products.
Kevin Weadick is a 16-year veteran of Grainger and currently serves as the President of Zoro.com. He recently sat down with IEN to discuss his company's success and how it leverages an affiliation with Grainger while taking a distinctively different approach to the marketplace.
Jeff Reinke, IEN Editorial Director: How does Zoro.com sets itself apart from its parent company?
Kevin Weadick, President of Zoro.com: Grainger competes in a marketplace that requires multiple touch points (the company has 284 branch location or storefronts in the U.S.) and value-added services that impact the customer at a deeper level. Zoro is focused on working with much smaller companies where there's probably an individual buyer who is often the owner of the company. So, where Grainger works with companies, we sell to individuals looking to save time, get what they need, and get on with their day.
Our customers tend to have less complicated purchasing needs, don't want to mess with a purchasing contract and simply require less support. So, our approach focuses on those things. Last year we saw sales increase by 18 percent to approximately $500 million.
JR: As e-commerce continues to evolve, what are some of the strategies Zoro has used to help grow sales?
KW: I think it starts with the simple fact that people are more comfortable buying more stuff on-line. However, along with that, customer expectations are higher. Amazon has created a new level of expectation for on-line buyers, so the B2B experience has to match that of B2C sites.
That's why we're always looking at ways to improve our site's search and navigation functions. This includes improving the ways we introduce new products, which leads into optimizing single SKU web pages. We want to ensure that the customer understands the full breath of offerings related to that individual product.
We've also expanded our use of traditional and digital marketing tools. This includes paying constant attention to changes effecting SEO and expanding our marketplace partnerships with sites like Google, Bing, Ebay, Wal-Mart, Jet and others.
JR: We've discussed how Zoro differs from Grainger, but what are some of the complimentary elements that were either put in place or have come to be over time?
KW: I think the biggest overlap is that both companies are solely focused on MRO, which helps our customers find what they need and solve problems, regardless of size. Both customer groups also have a desire to get what they need and move on with their day. So things like reliable delivery, strong product availability, credit terms, payment options and high levels of customer service are things both businesses have in common. Again, our customers aren't necessarily looking for a lot of support after the sale, but if a customer's needs start to exceed what we can provide, they're referred to Grainger.
Both companies also benefit from a larger, more diverse supply chain that can provide access to an extensive collection of products. The ability for us to leverage Grainger's distribution footprint also helps us fulfill orders more efficiently.
JR: What are some current purchasing trends Zoro is experiencing and how could they impact demand in the years to come?
KW: The biggest thing is just more on-line volume, which, for us means we're developing an even broader collection of customers. This has led to adding more cleaning and general business products to our inventory.
A broader customer base also means that we need to keep learning more about them and their purchasing habits. This will help us to develop more self-service tools that keep the purchasing process as simple as possible and continue introducing new products that they want. We've also seen our transparent pricing strategy play a key role in keeping us competitive.