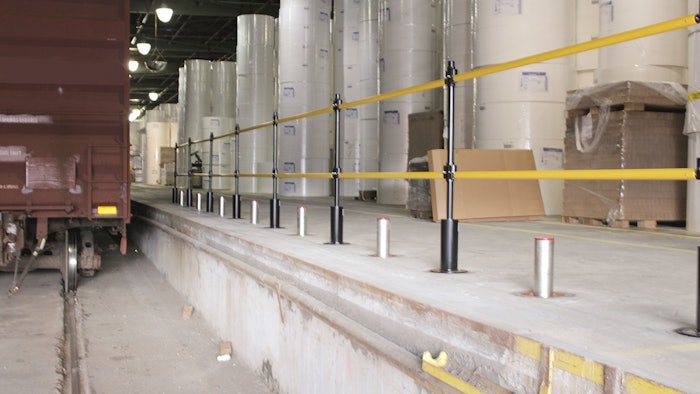 The new GuardRite Retractable Barrier from Rite-Hite (Milwaukee, WI) is a modular and self-storing barrier system that can withstand up to 30,000 lbs of impact at 4 mph, making it ideal for guarding rail docks, finger docks, wide loading and flatbed loading areas, as well as protecting sensitive equipment and pedestrian areas. The complete safety system includes a 10-inch tall retractable barrier, visibility posts and removable handrails and can provide full run-off protection while still allowing unrestricted access along the entire length of the installation. The GuardRite system's core component – the barrier – can stand alone or can be incorporated into an OSHA compliant removable safety rail system. Features include:
An 8-inch diameter sleeve, which fits into a 10-inch core-drilled hole, excavated 20½-inches deep. The impact-absorbing polyurethane sleeve surrounds a 3½-inch diameter bollard.
A gas-spring assisted barrier unit which can easily be raised or lowered flush into the floor with an operational tool that can store in an operational visibility post.
The modular nature of the GuardRite Retractable Barrier System makes it ideal for rail docks, where loading/unloading access points may vary by 200 to 300 feet or more. However, it will also have applications for wide loading, flatbed and finger docks, as well as protecting sensitive internal equipment installations and pedestrian areas from forklift impact.
www.ritehite.com; 800-456-0600