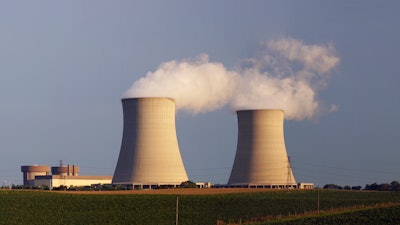 CHICAGO (AP) — Competitors of Chicago-based Exelon Corp. filed a federal lawsuit Tuesday opposing legislation that provides billions of dollars in subsidies to the power giant.
The legislation approved in December provides as much as $235 million per year to Exelon to keep unprofitable nuclear plants running in Clinton and the Quad Cities. More than 4 million customers of power-distributing subsidiaries ComEd and Ameren will pay more to finance the plan.
The lawsuit filed U.S. District Court in Chicago challenges the law on constitutional grounds.
Crain's Chicago Business reports the competitors, including Houston-based Dynegy, allege the subsidies undermine wholesale power markets that are the exclusive jurisdiction of the Federal Energy Regulatory Commission.
"It will profoundly disrupt the FERC-approved energy market auction structure and result in the transfer of hundreds of millions of dollars a year of ratepayer funds to Exelon at the expense of other generators that would have been economically viable without discriminatory subsidies," the lawsuit stated.
Exelon contends the legislation provides it similar mechanisms that have aided renewable energy development for years.
"Exelon opposes misguided and parochial efforts to block state lawmakers from taking legitimate steps to protect the environment and promote sound economic policies for their citizens," Exelon said in a statement Tuesday.
Illinois Clean Jobs Coalition is slamming the lawsuit, saying the filers want to shackle Illinoisans to higher costs and dangerous fuels of the past.
Consumer groups, including the nonprofit BEST Coalition, argue the plants aren't needed and keeping them open will cost ratepayers more anyway.
The plan, to go into effect in June, would cost 3.1 million northern Illinois customers of Exelon's power-distributing subsidiary, ComEd, an average of 25 cents more per month during the life of the plan. In central and southern Illinois, Ameren's 1.2 million customers would pay an additional 12 cents or less monthly, the company said.
Both companies said the increase could be less because of rate caps that Gov. Bruce Rauner, who has argued repeatedly in favor of saving jobs, insisted on in return for his support, lawmakers said.