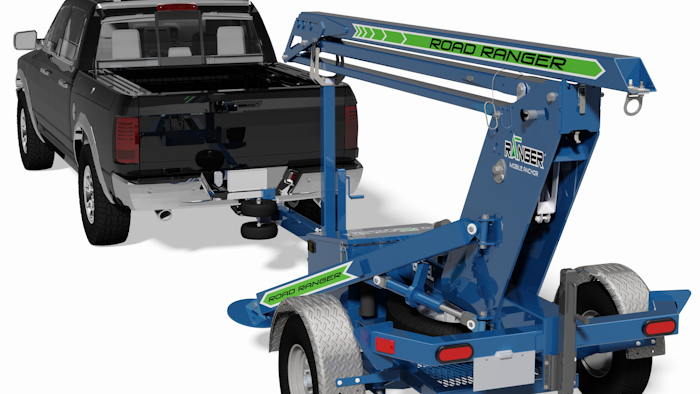 Gorbel (Rochester, NY) has introduced a new mobile fall protection unit, the Road Ranger Mobile Anchor. Like the traditional Ranger Mobile Anchor, the new Road Ranger can be quickly attached to a forklift, truck or other related towing device and can also be maneuvered so that the anchorage point is positioned directly above the work area as the job is performed. The one key difference with the Road Ranger is that it's rated for highway towing up to 65 mph. Used in conjunction with a full body harness and retractable lanyard, the Ranger Mobile Anchor provides a complete fall arrest system "on the go," ideal for use when maintaining aircraft, railroad cars, industrial equipment, or heavy machinery. Additional benefits include:
A combination of steel and aluminum components for a superior strength to weight ratio.
The capability of covering heights from 18 to 22 feet to address a wide range of jobs.

A battery-driven powered set-up, allowing for use within moments, reducing strain on workers during both erection and dismantling.
A compact design and single-plane erection, which allows for use in tight spaces and can be used in indoor and outdoor environments.
The ability to permit for a 30-degree work angle in all directions.

A maximum weight capacity of 310 pounds, and maximum arresting force of 900 pounds.
Made-in-USA and meets all OSHA regulations.
The Road Ranger Mobile Anchor is the latest product in the TetherTrack offering of fall protection systems.
Click here for more information.