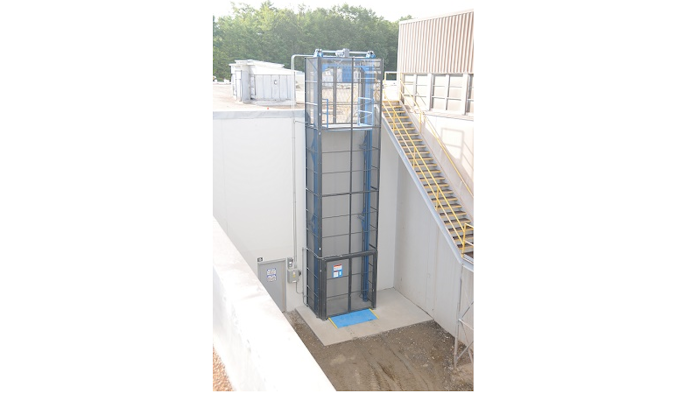 A large manufacturing company in North Carolina installed a VRC (vertical reciprocating conveyor) to take equipment and maintenance items up to their roof. VRCs are designed to move goods and materials between multiple floor levels quickly and safely. They may be configured for C, Z, or L loading patterns between floor levels and are available in a wide variety of platform sizes and capacities.
Benefits of the integration of this VRC from St. Charles, IL-based Advance Lifts, included:
Greater Efficiency. Prior the installation of this VRC, anything that weighed less than 300-lbs. was hand carried up over 35 stairs to the roof. Oftentimes items were chained to a pole and thrown over a shoulder.
Work on the various HVAC components, blowers, ducts, chimneys and filters could take multiple employees multiple trips up these stairs with heavy or bulky item in their hands. By utilizing the VRC, 1 or 2 employees could send up to 2,000-lbs. to the roof in a single trip avoiding many trips up the stairs and allowing them to complete the job much quicker and accomplish more in a day.
Reduced Exposure to Possible Injury. Once the VRC was installed, employees could get everything they needed for the job up to the roof without having to carry anything.  Not carrying anything up the stairs allowed them to use the handrail for balance. They did not have to worry about dropping their heavy or bulky loads, and they were far less fatigued, thus performance and safety have increased.
VRCs, whether they are floor to floor or in this case floor to roof, allow for greater efficiency and safer environments.
www.advancelifts.com; 800-843-3625