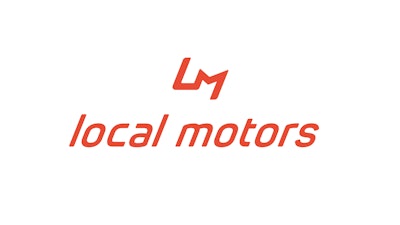 Last week at IMTS (International Manufacturing Technology Show) Local Motors launched a new division — Forth by LM. Forth is a crowd-powered, Software as a Service (SaaS) platform that enables companies to transform and digitize their product development process using co-creation and micro-manufacturing.

Co-creation has been at the heart of Local Motors, which has created products like the Rally Fighter, the world's first co-created vehicle; the Strati, the first 3D-printed car, and most recently Olli, an autonomous commuter vehicle with IBM's Watson technology.
"The launch of Forth is a proud moment for me as it demonstrates to the world that co-creation and micro-manufacturing of vehicles is leading the way for rapid product development and commercialization across many other industries," said Local Motors Co-founder and CEO John B. Rogers, Jr.
"The time is now for digital and industrial to come together in products that delight us and make our world better. The last century of manufacturing is not fit for the products of the next century, and Forth is showing the world that if we can change the vehicle industry to incorporate a digital future in its process and products, then we can do the same in every industry across the world," Rogers said.
Forth brings an online co-creation community with more than 60,000 active members from around the globe. GE and Local Motors together created FirstBuild in 2014, and the result was a micro-factory in Louisville that commercialized small home appliances in record time - including the Prisma cold brew coffee maker and the Opal countertop nugget-ice maker.

Local Motors and Airbus Group launched the Airbus Cargo Drone Challenge in April, a co-creation initiative that started with a design challenge to begin development on the next generation of commercial drones. After a first phase that included a record 425 entries, the next phase of the engagement, led by the Forth team, focuses on building the Airbus Drone Services Platform, a digital marketplace for drone-based services.

More information is available at www.localmotors.com.