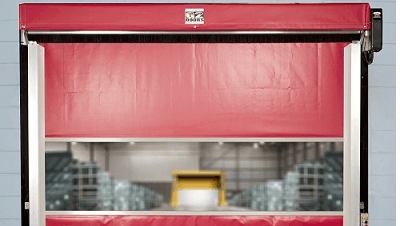 Offering high performance at a low cost, Goff's (Pewaukee, WI) 5400 Series G2 Door is the newest to the product line of Goff's Enterprises' G2 Doors. Designed as a high speed, multiple application door, the 5400 series will be popular for high use or forklift traffic areas in addition to loading docks and lower use areas. Featuring a soft start and stop, the operator raises the door at 54" per second and can operate 200 times per hour. It is also spray and dust proof and offers simple installation with a direct quill drive to the door. Other features include:

• Extruded PVC side seals, custom fiberglass wind bars and custom extruded aluminum side beams.
• Automatic reset of the door after impact or blow out. Motorized doors are equipped with safety photo eye sensors to protect anyone moving under an open door.
• Exchangeable mesh, vinyl and clear panels for multi-season use and performance.

www.GoffsCurtainWalls.com; 800-234-0337