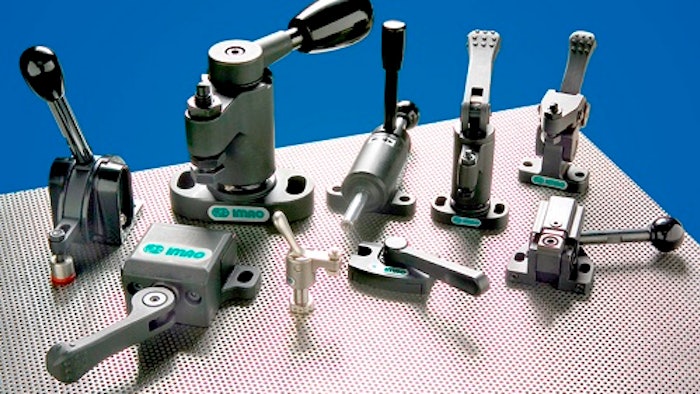 Fixtureworks (Fraser, MI) offers an extensive new lineup of One-Touch manual clamps. One-Touch clamps offer easy and efficient clamping and unclamping of a workpiece in one simple operation. Each clamp is designed to eliminate the need for tools when applying the clamping force and helps reduce setup time and increases productivity. The lineup of One-Touch clamps includes swing, push, pull, retractable, thrust, snap and side clamps:
Swing clamps operate by rotating the handle, which simultaneously swings the clamp arm over the workpiece into the clamping position. Further rotation of the handle draws the clamp arm down and applies direct downward force on the work piece. The swing clamps are available with cam, adjustable and spiral-acting handles. The clamping forces applied by these swing clamps range between 170-2,250 lb.
Push clamps are designed to exert pressure against a strap clamp or work piece by rotating the handle, which then forces the center piston to extend out. Simply rotating the handle in the opposite direction retracts the center piston. Push clamps can exert forces up to 890 lb. and can be utilized in either a vertical or horizontal position.
Pull clamps are available in two different variations, both of which operate in conjunction with a clamping pin or clamping screw to provide quick and secure fastening in repetitive operations. By rotating the handle, the clamping pin or screw is retracted into the clamp, properly locating and holding the work piece in place. The amount of clamping force ranges between 200-1,800 lb.
One-Touch clamps include; retractable versions, with clamping force to 945 lb., that pivot completely away from the workpiece for easy loading/unloading; thrust clamps, with clamping force to 315 lb., that feature a clamping body and bar used together for a range of workholding options; and snap clamps, with clamping force up to 31 lb., that provide a unique snap-on system. Once the handle is moved forward the internal mechanism works to build tension. At a specific point, the tension is released and transformed into clamping force.
The side clamp that is One-Touch has a moving jaw that pivots forward and downward to securely hold the workpiece. The One-Touch side clamp, with clamping force up to 900 lb. uses a handle to engage the clamping jaw. Other variations feature double jaws and built in work supports. Side clamps are designed to apply workholding forces to the side of a workpiece, leaving the top free of obstructions during the machining process.
www.fixtureworks.net; 888-794-8687