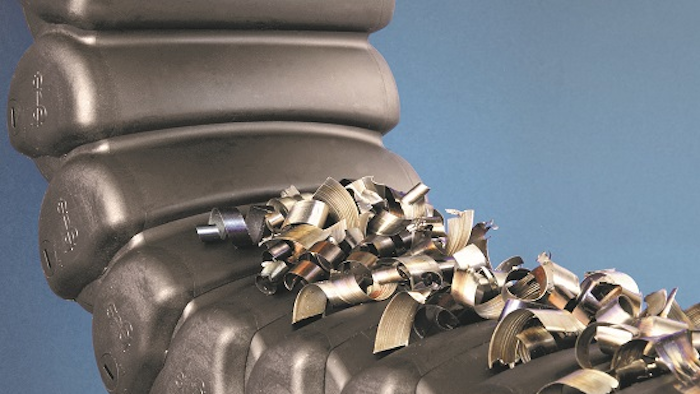 If moving cables in the workspace of lathes, milling and sawing machines need protecting, cable carriers must be chip tight, while simultaneously guiding the cables with low abrasion. For this purpose, igus (East Providence, RI) has developed its first foldable plastic energy tube, the R68 in the Energy Chain System line of cable carriers. This latest energy tube offers comprehensive protection against chips of any size. Benefits include:
Rigorous testing under real environmental conditions for the most accurate simulation outside of the application itself.
Only 0.23 grams of chips in over 100,000 double stokes with a feed of 1,000 grams of metal chips, equal to only .023% chip allowance. Comparative testes with other manufacturers' cable carriers show a much higher volume of chips allowed into the tube.
A rounded profile: On its smooth and convex outer contour, the chips simply slide off the surface of the tube.
Smooth contours and especially tight production tolerances: no chips got between the stoppers during testing, crucial to prevent changing the bend radius of the tube, which could disrupt or even inhibit the system from moving properly.
www.igus.com; 800.521.2747