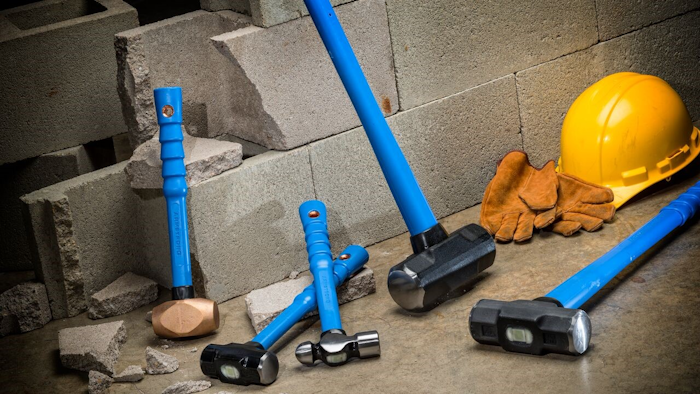 Armstrong Industrial Hand Tools, part of Apex Tool Group, LLC (Sparks, MD) has announced that its new MaxxLock hammers and sledges are available for purchase at select MRO and construction products distributors and industrial supply houses nationwide. The MaxxLock product line ranges from 14-inch, 24 oz. ball-pein hammers to 32-inch, 12 lb. sledge hammers. Features include:
Composite-wrapped fiberglass core handles that reduce weight while improving performance, safety and durability. The fiberglass tests beyond 5,000 overstrikes without bending and weighs significantly less than comparable steel rod products.
Slip-resistant reverse-ribbed grips that boost safety. The fiberglass core handles and composite outer wraps outperform hickory handles while providing double protection from overstrike damage.

A combination of mechanical locking components and epoxy to secure every MaxxLock head to its handle with more than 10,000 pounds of pull-off resistance to aid durability and safety. All MaxxLock tools are tether-ready, with copper-reinforced lanyard attachment points for working at height.

An optional 24-inch handle on the MaxxLock 8 lb. sledge, which improves control and is compliant with tools-at-height best practices.
www.armstrongtools.com; 800-621-8814