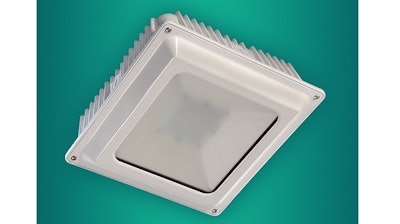 LEDtronics (Torrance, CA) presents a UL-listed, surface-mount addition to its lineup of low-profile LED canopy lights for both indoor and outdoor lighting applications. As with the rest of the LEDtronics canopy light series, the compact CNP000-45WF has an extremely low profile, boasting a total height of only 3.5 inches. This sleek, slim design makes it perfect for any canopy application, such as gas stations, manufacturing, factory floors, warehouses, loading docks, parking & recreation areas, tunnels, canopies, entrances, walkways, underpasses, and many more. The CNP000-45WF features the following:
Consuming less than 45 watts, the luminaire replaces HID lights of up to 175 watts—an energy savings of up to 75%—offering an output of 5,085 lumens of pure white (5000K) bright illumination through a frosted flat lens. This translates into luminous efficacy of 115 lumens per watt.
It is easily mountable on walls or ceilings indoors or outdoors, and does not need to be dismantled for installation.
Both lightweight and rugged, it is made of die-cast aluminum housing and has a high-impact, heat-resistant, polycarbonate frosted lens. The luminaire is efficiently designed to dissipate heat and distribute light evenly, with minimal glare. It effectively sends a wide-focused circular beam that spreads 110 degrees vertically and horizontally.
The fixture is IP65 rated (suitable for wet locations), and comes in a wide input voltage range of 100 to 277 VAC. It is also RoHS compliant.
www.ledtronics.com/Products/product_select.aspx?id=CNP000-045WF-XPW-105; 800-579-4875