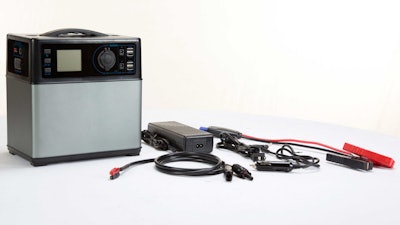 Larson Electronics (Kemp, TX) has released a new series of portable battery packs powered with lithium-ion batteries that offer multiple charging capabilities. These units are designed for off-grid use in remote locations with solar panel compatibility (Escape 30, Boulder 15, Nomad 27 and Nomad 13). These solar units are available in a 300 watt rated output, a 2,000 watt rated output, and a 500 watt rated output. The units come with versatile AC and PV charging options and can be charged by a wall charger, a car charger and solar charger. A digital panel displays the status of the battery in real-time. For seamless transportation and handling, a pop-up handle may be deployed. Additional benefits are comprised of the following:
The battery pack supports 120/240 volts AC output voltages and frequencies.
A Type G AC output socket/charging cable is supported by this unit.
This product can be charged using solar panels (PV) with a max input voltage of 150Vdc and MPPT input voltage of 18~50 volts DC.
The portable battery pack weighs 26.4 pounds and measures 15.9 x 8.4 x 10.2 inches, making it easy to carry from one location to another.
www.Larsonelectronics.com; 800-369-6671