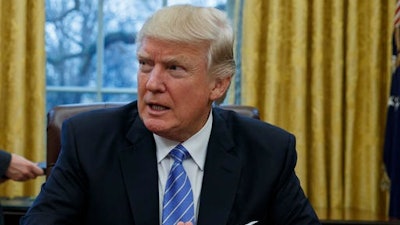 AP Photo/Evan Vucci, File
On Monday, President Donald Trump signed an executive action aimed at cutting regulations on small businesses, saying "the American Dream is back."

This latest order requires agencies requesting a new regulation to identify two that they will cut in return. According to Yahoo Finance, the new order does not require that the repeal of the two regulations be done simultaneously with the release of additional rules, though it does mandate that the cost of any additional regulations be completely offset by undoing existing rules.
"This will be the biggest such act that our country has ever seen. There will be regulation, there will be control, but it will be normalized control," Trump said as he signed the order in the Oval Office, surrounded by a group of small business owners.
Still, Reuters is reporting that the move will leave many key regulations intact and "does not cover independent agencies that crafted many of the rules required by the 2010 Dodd-Frank Wall Street reform law, including the Securities and Exchange Commission and the Commodity Futures Trading Commission, the White House said"