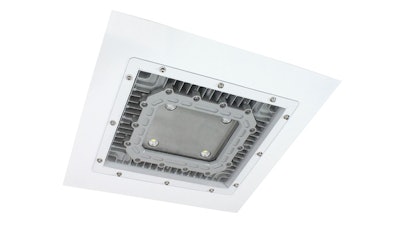 Larson Electronics (Kemp, TX) has announced the release of a 50 watt hazardous area LED light fixture designed for recessed panel mounting. The HALD-24-1X50LED hazardous area LED light fixture is designed to provide operators with a powerful and energy efficient alternative to traditional hazardous location luminaires. This explosion proof fixture is a 2x2 Class 1 Division 1 explosion proof lay-in LED light panel with a T5 temperature rating and is a fully integrated LED unit. The LED assembly is protected by an aluminum frame, hinged, 3/16" thick poly-carbonate door that provides direct front access to the internal components. The lamp housing is designed for recessed mounting, and is constructed of non-sparking aluminum powder coated to a white finish. Additional features include:
Multiple LED drivers in the integrated LED assembly, which help increase the operational life of the fixture.

5,834 lumens of light provided, while drawing only 50 watts of power.
An aluminum body and LED lamp, giving this light excellent durability and resistance to vibration and impacts.

A housing specially designed to dissipate heat, which increases the efficiency and lifespan of the LED luminaire.
Multi-voltage capability, and can be operated with 100-277 volts AC without any need for a special ballast.
The fixture is designed for recessed mounting and requires a mounting hole to be made in booth panels capable of accommodating the fixture housing to provide the maximum amount of space in paint spray booth enclosures. Once mounted, the fixtures door frame will extend 3/8" into the spray booth.
www.larsonelectronics.com; 800-369-6671