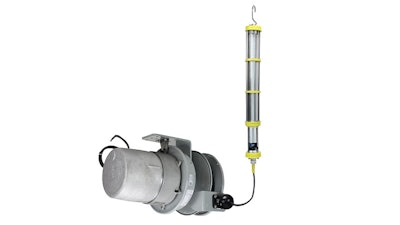 Larson Electronics (Kemp, TX) has announced the release of a 15 watt explosion proof LED drop light with an explosion proof cord reel equipped with 25 feet of 16/3 AWG SOOW cord. The included cord gives operators in hazardous locations the ability to easily extend the working reach of the attached 15 watt LED drop light. Specifically:
The two foot, 15 watt LED drop light features a rugged, non-sparking aluminum casing and unique rod cage.
It produces a cool, glare-free, shadow-less light that improves safety in hazardous locations and maximizes lighting efficiency.
The lamp has no ballast, which reduces lamp weight, an impact resistant tube shield with specially designed annealed glass and an aluminum hook for easy overhead mounting.

The explosion proof reel is rated Class 1 Division 1 and Class 2 Division 2 and includes 25 feet of cord that feeds onto the reel assembly through a four-roller adjustable cable guide with a ball stop.
The drop light and cord reel is ideal for use in tank cleaning applications, as well as for tedious inspections in paint booth applications. This unit is also designed to withstand wet and corrosive conditions such as those found in docks and shipyards while maintaining explosion proof ratings throughout the whole unit.
www.Larsonelectronics.com; 800-369-6671