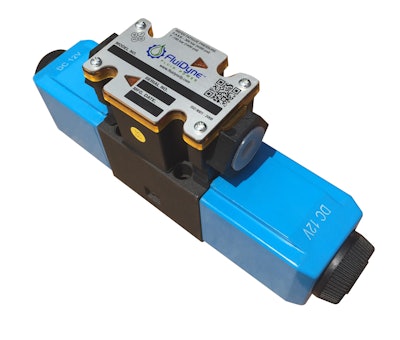 Solenoid operated directional control valves are designed for directing and stopping flow at any point in a hydraulic system. According to FluiDyne (Fraser, MI), its directional valves interchange with Vickers, Rexroth, Parker and all NFPA style valves in the D03-D08 mountings. FluiDyne's directional control valves are available in 3 way, 4 way, 2 & 3 positions, various spool configurations and most common voltages AC, DC, Rectified coils and DIN or wired housing connections.
Modular Stak Valves are "sandwich" mounted between a directional valve and a standard mounting surface. This helps improves the system's design flexibility and reduces leakage. They eliminate external leakage and boosts resistance to contamination for a better overall reliable system. Installation costs are less than when using conventional valves. FluiDyne has the Modular Stak Valves in many different functions, including:
Relief.

Dual crossover relief.

Dual check.
Flow control.
Pressure reducing.
Subplates and multi-station manifolds are also available. 
www.fluidynefp.com; 586-296-7200