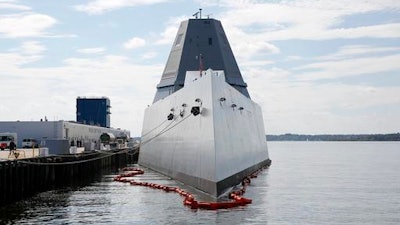 AP Photo
BAE Systems has received a contract from the U.S. Navy for post-construction work aboard the guided missile destroyers USS Zumwalt and USS Michael Monsoor.
The contract has an initial award of $10.3 million and a maximum value of $192.7 million for work through September 2021.
USS Zumwalt and Michael Monsoor are the first two ships of the Navy's new class of surface combatants. The ships are 610 feet long, displace about 15,700 tons, and are comprised of steel hulls and composite structure deckhouses.
The Zumwalt was commissioned in Baltimore last month and now is enroute to its homeport in San Diego. The Michael Monsoor is currently under construction in Bath, Maine, and will also be homeported in San Diego.
BAE Systems will begin work on the Zumwalt next month. Work on the Michael Monsoor will begin after the ship is delivered to the Navy.
Under the new contract, the company's San Diego shipyard will support the installation and completion of the ships' combat systems and perform post-construction hull, mechanical, and electrical enhancements. The shipyard also will support the ships' post-shakedown availabilities following the demonstration and certification of their combat systems and final sea trials.
In addition to the shipyard's work, BAE Systems' Weapon Systems business will work on the ships' gun systems, which will be capable of delivering ordnance against a wide variety of targets.
The business also will install the ships' Mk 57 vertical launch systems, which will provide the capability and flexibility of deploying existing and new missiles without costly, complex reconfiguration or maintenance.