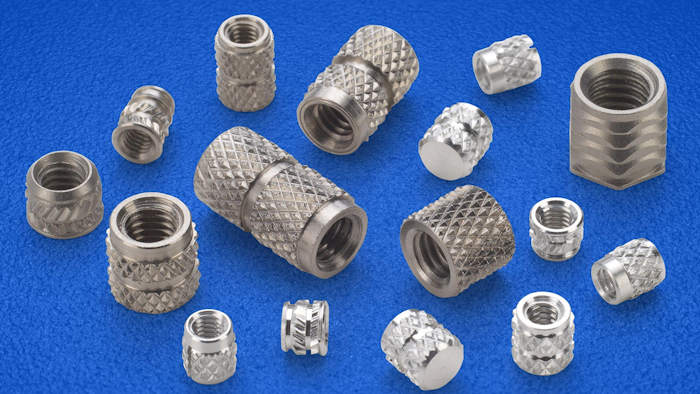 New aluminum versions of SI brand threaded inserts from PennEngineering (Danboro, PA) introduce lead-free and lightweight alternatives to brass counterparts. Additionally, says the company, they offer ideal solutions to eliminate potential environmental and recycling issues while contributing to overall lighter assemblies.
The aluminum option – approximately 70% lighter than brass equivalents – can be specified for all types of SI inserts and augments the standard line of brass and corrosion-resistant lead-free stainless steel products. All provide durable and reusable metal threads in plastics to accept mating hardware and subsequently allow for access to an assembly whenever required. Whether manufactured from aluminum, stainless steel, or brass, the SI product line for plastic assemblies includes:
Ultrasonic / heat staking inserts for installation ultrasonically or with a thermal press
Molded-in types installed during the molding process
Press-in types installed by pressing the insert into a pre-molded or drilled hole.
All install permanently and, unlike fixed and unyielding joining methods (such as adhesives or rivets), the inserts ultimately offer the capability to disassemble and re-attach plastic components easily and quickly without damaging the threads, compromising attachment integrity, or otherwise adversely impacting an assembly.
www.pemnet.com; 800-237-4736