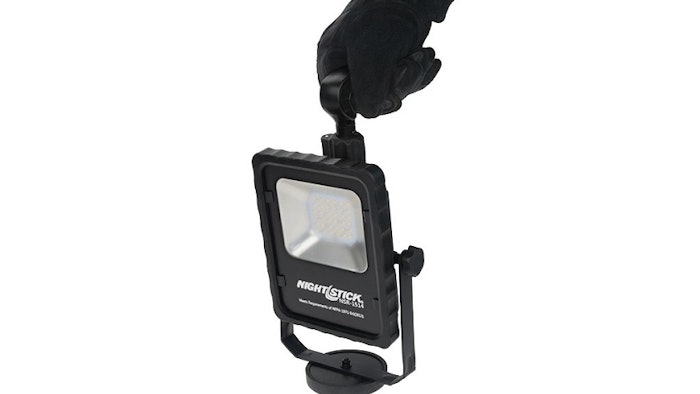 Bayco Products Inc. (Wylie, TX) announces the availability of its new 1,000 Lumen Nightstick NSR-1514 LED Rechargeable Area/Scene Light with Magnetic Base, and 1,000 Lumen Nightstick NSR-1514C Rechargeable LED Area Light Kit, which includes a 6 foot tripod placed inside a durable carrying case.
With an impressive 1,000 lumens of light on high, 500 lumens on low using a single sealed push button switch, the discrete yet powerful Nightstick NSR-1514 weighs a mere 3.3 pounds. Leveraging lithium-ion rechargeable battery technology to provide up to 8 hours of continuous usable light on 1 single charge, the NSR-1514 also features a rare-earth 10 pound pull force magnet in the supporting base. With hands-free use and lightweight rechargeable portability in mind, this area light will swivel independently providing the ability to position light exactly where needed and at angles not available in traditional fixed position scene lighting until now.
The lightweight 6061-T6 aluminum frame with multi-fin heat sink keeps this area scene light cool to the touch while the adjustable comfort-grip handle provides versatility to carry, hang, adjust and reposition light as needed in the field. Drop rated at 2 meters with a water rating of IP-X7 waterproof, the NSR-1514 is also backed up with Bayco Products 1 year limited warranty.
Check out the Nightstick NSR-1514 in action below:
www.mynightstick.com; 800-233-2155