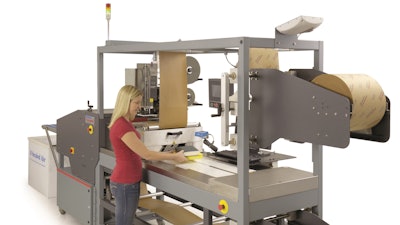 UPS and Sealed Air Corporation have announced a strategic partnership to help retailers, e-tailers and businesses around the world maximize the efficiency of their packaging operations, minimize packaging waste and reduce annual shipping costs.
According to a recent press release on the partnership, UPS and Sealed Air have long been united in their missions to enable efficient on-time delivery and returns, provide maximum protection against damage, reduce waste and lower shipping costs.
Previous years of collaboration between both companies have led to this next logical step of expansion with the introduction of several new offerings. As part of the partnership, UPS customers gain access to additional package engineering expertise and services through Sealed Air's Packaging Application Centers, which provide design, testing and packaging performance analysis for customers from 27 global locations.
Additionally, Sealed Air will participate in the UPS Customer Technology Program (CTP), providing packaging systems and materials. CTP is a customer loyalty program that connects small to medium-sized businesses with best-in-class vendors of hardware, software peripherals – and now packaging – to help them gain efficiencies across their business and enable growth.
IEN asked Ken Chrisman, President of Sealed Air's Product Care Division, to provide some insight into how this new partnership can address evolving demands in packaging and shipping.
IEN: Can you give us a few examples of some of the solutions the new UPS partnership could provide for businesses in the manufacturing/distribution sector?
KC: As a partner with UPS and a participant in the UPS Customer Technology Program, Sealed Air is the exclusive provider of packaging technology to UPS's customers in the manufacturing/distribution sector.
With the opening of a new Sealed Air Innovation and Packaging Design Center at the UPS Supply Chain Solutions facility in Louisville, the company will also have the opportunity to showcase its leading solutions for best-in-class fulfillment operations – from manual work cell packaging to integrated, full-scale automation.
The showroom will be a place for hands on tours, as well as one-on-one consultations with Sealed Air's operational excellence and packaging design experts.
IEN: Explain how e-commerce has been a game changer.
KC: E-commerce is perhaps the most important consumer goods revolution of the last 15 years and has become a major focus area for Sealed Air and is shaping our R&D innovations.
Today, almost anything can be bought and sold online, which has substantially increased the need for secondary packaging to protect items during the store-to-door journey. As the fulfillment sector of our global economy has grown more complex, so too have the selection of packaging solutions that support it. The key to unlocking fulfillment efficiency is less, not more.
To combat fulfillment dysfunction caused by the rapid surge in e-commerce, Sealed Air provides a portfolio of automated solutions that decrease freight and material costs, increase throughput, optimize labor and productivity, improve sustainability, and drive lower total cost of ownership. The equipment creates the right-sized package for every order, every time, which also helps to solve the challenges of dimensional weight pricing implemented by major carriers such as UPS and FedEX.
Dimensional weight pricing is based on volume versus actual weight of shipments and is calculated by determining the cubic size of a package. It's estimated that an additional $550 million a year will be spent on shipping costs as a result of dimensional weight pricing changes.
This pricing method has caused e-tailers to not only rethink the box but eliminate the box completely. What's old is new again as many companies are turning to Sealed Air's traditional mailers which reduce inventory requirements, labor, and shipping costs. As a knowledge provider, Sealed Air is able to offer operational excellence services, which can save e-commerce fulfillment operations valuable time and money by optimizing fulfllment processes.
We expertly assess process, people and systems. By reviewing organizational and facility design, we are able to affect processes up and down the packaging stream that drive efficiencies to position a business for future growth. We also draw on market and industry benchmarks, deep industry partnerships and the decades of data that's been gathered and leveraged by our Packaging Application Centers to ensure the greatest cost efficiency for a business, and the greatest opportunity for topline growth.
In addition to the fulfillment side of e-commerce, Sealed Air now offers solutions tailored to the unboxing side of the transaction. When it comes to online shopping, the brand experience cannot end at the customer's door but must extend through the door. To retain e-commerce consumers, retailers must provide the same kind of stimuli inside the house that they provide inside the store.
Sealed Air has introduced packaging solutions customized to showcase a brand's identity, grab a customer's attention at the doorstep and delight her through the unboxing experience, which results in increased customer loyalty and more orders.
IEN: Can you identify some of the biggest changes in packaging, and what you anticipate for the future?
KC: Product integrity will be one of the packaging industry's biggest concerns. As e-commerce continues to alter the retail landscape, more products are being moved throughout more places than ever before and are encountering a multitude of touch points.
With this increased interaction comes a greater risk to product integrity, which is paramount to meeting consumer demands. In the future, the packaging industry will play a larger role in product integrity and Sealed Air is already at the forefront.
We are reducing risk with solutions that eliminate damage, reduce waste and increase brand consistency. We are tapping into the internet of things and big data to provide assurance and compliance.
One of Sealed Air's newest product integrity solutions is StealthWrap, a high-performance, opaque plastic that eliminates the need for outer boxes by turning primary packaging into secondary packaging for direct shipping from the manufacturer or distribution center.
In addition, Sealed Air has taken its internal data extrusion and reconfigured it for customer use on packaging machines, leading to increased operational efficiency. And we've implemented virtual test simulation and statistical modeling that's empowering customers to select desired levels of assurance.