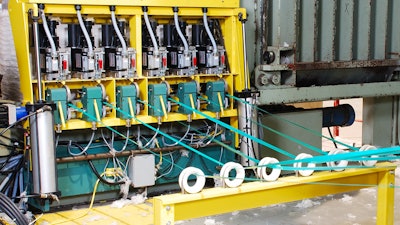 Signode Industrial Group
According to the American Trucking Association, nearly 70% of all the freight tonnage moved in the U.S. goes on trucks - which equates to 9.2 billion tons of freight annually.
In short, that's a lot of product headed to customer destinations on a daily basis and unfortunately not all arrives as intended. Nearly every manufacturer in every industry understands the importance of properly securing pallet loads for transport. One proverbial wrong turn and the entire load can be damaged.
Thankfully there are ample solutions for securing ones upstream value and ensuring products arrive as intended to their final destination. Whether a small electronic device or large industrial pipe, the first step to proper load containment is identifying the right solutions for the job.
Signode Industrial Group understands this all too well. The company is made up of over 88 manufacturing facilities across dozens of industries - all focused on protective packaging and load containment needs.
And if there is one thing we have learned over the years, it's the importance of protecting customer products. Helping manufacturers better understand the supply chain and solutions available, here is a quick guide.
The first step for most manufacturers, especially in electronics, automotive and food and beverage industries, is getting product into its respective case/box. However, most cases are provided flat and must be erected, sealed and labeled before they can be unitized and shipped.
Those looking for reliable, cost-effective solutions for automating these processes should consider a company like Loveshaw. As an example, their brand of Little David case forming machines are commonly integrated into existing product lines for volumes as low as 500 cases per day.
For a little extra protection inside the box, Multi-Wall is an example of a company that provides custom, eco-friendly solutions to protect products from the constant knocking and vibration caused inside the box during transportation. Products like Sus-Pak help firmly suspend product inside the box and cushion it to prevent damage.
Once packed and sealed, the next step is pallet unitization. Those looking for proper load containment solutions need look no further than Muller. From its high speed automatic Octopus rotary ring stretch wrappers and Lachenmeier stretch hooders to its robotic pallet wrappers and turntables, the company provides a range of equipment and material solutions to fit various applications and budgets.
Looking to strap it instead of wrap it? Signode has long pioneered the advancement of consumables and equipment for strapping. Protecting edges from potential strapping damage, companies like Angleboard offer additional armor with cornerboards.
Further downstream, manufacturers can ensure even greater protection during transportation by reducing friction between pallet loads with Shipper Products' airbags or slippage with AIA's TransMat Rubber Friction Mats. Even loads with varying temperature requirements can be safely transported with insulated bulkheads and air chutes, like those by Insulated Transport Products, which helps create multi-temp zones in single trailers.
In the end, there is no reason a manufacturer should lose inventory during normal transportation. However, while the concept of securing pallets is a unified challenge, solutions will vary.