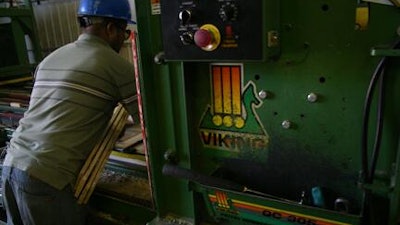 FOX59 News, @FOX59
MICHIGAN CITY, Ind. (AP) — A northern Indiana fire marshal has threatened to shut down a pallet company because factory conditions pose a threat to worker safety.
Michigan City Fire Marshal Kyle Kazmierczak wants to shutter Calumet Pallet's plant until company officials improve safety conditions, the (Northwest Indiana) Times reported.
The plant doesn't comply with National Fire Protection Association standards, Kazmierczak told the city's Board of Works on Monday. He also said there are life-threatening conditions company officials haven't addressed despite repeated orders to do so.
The 13-acre (5.3-hectare) site is nearly 75 percent full of pallets and debris, Kazmierczak said. A pallet is a flat transport structure that supports materials while being lifted by machinery.
"There is no ability to get into that site safely," he said, adding that doorways meant to be emergency exits at the plant are blocked by debris or parked vehicles.
Two propane tanks were also out in the open, and three gas cans weren't in a safe cabinet, Kazmierczak said.
Scott McClure, the manufacturer's attorney, said work must be done to bring the plant into compliance. But shutting off electrical service will make it difficult to complete the remaining improvement work, he said.
McClure said the company has repaired the sprinklers and two of three fire hydrants. The company is now dealing with conditions in the yard to improve safety, and has so far hauled close to 100 truckloads of mulch and debris from the site, he said.