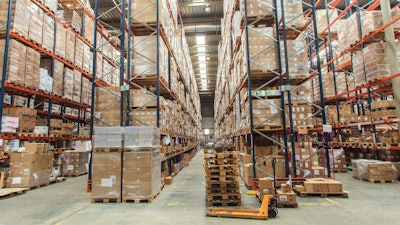 Regardless of industry, one thing common among all manufacturers is the need to effectively and efficiently get their products from point A to point B.
To ensure proper load containment, more companies are investing in solutions specific to their needs. The concept of securing pallets is a unified challenge; but the solutions will vary.
For example, the packaging needs of a steel manufacturer will differ significantly from a food manufacturer.
Signode Industrial Group is well equipped for such diversity. The $2.4 billion dollar company is recognized as the leading global manufacturer of strap, stretch, and protective packaging consumables, tools and equipment. With 88 manufacturing facilities across six continents, the company does business under more than two dozen highly respected brands around the world- most focused on load containment and each brand with its own solution.
There is a lot that can be learned from a company with that much institutional knowledge. This guide follows several brands through the stages of material handling to help manufactures determine the ideal solutions for their load containment needs.
Getting in the Box
Further upstream the supply chain, many products must first be placed in a corrugated box/case. However, cases don't always come ready to pack.
Most are provided flat and must be erected, sealed and labeled before they can be stacked and ready to ship. Start-up or low volume manufactures will achieve these results by hand.
However, those with volumes as low as 500 cases per day, can benefit significantly from case forming machines like those provided by Loveshaw. Its brand of Little David machines have been long used to help manufacturers cost-effectively integrate equipment into existing production lines.
Before selecting a case former, manufacturers should consider their box type (see reference below). From there, a vendor like Loveshaw can help identify the proper equipment.
While selecting the right equipment and case for the package may be the only step required for proper containment, some products may require greater stability. Take for example a cell phone. If it were simply dropped into a box with no additional support the constant knocking and vibration during transportation could easily damage it before it arrives.
Products like Multi-Wall's Sus-Pak incorporates ingeniously designed fingers that gently, but firmly suspend product to cushion it from shocks and prevent breakage. Sus-Pak provides exceptional stacking strength, forming a reinforced wall within the carton. From consumer goods and automotive to furniture and HVAC, brands like Multi-Wall specialize in providing custom, eco-friendly protective packaging solutions for various applications.
Once in the right box and safely contained inside, the next stop on the products' journey is to a case sealer or taping system and then on to labeling. Loveshaw provides a variety of solutions for each and similar to case erectors, solutions can take many forms.
For example, case sealers work for both uniform and random sized cases and are available as semi or fully automatic solutions. Selecting the right solution is paramount to achieving greater productivity.
Unitizing the Load
As products approach the end of the line they are palletized and secured further to prepare them for transport. Depending on the application, a bevy of solutions are available to ensure the upstream value is not lost. One sharp turn on a truck or bump in the road can cause pallet loads topple over or smash into each other- resulting in damage before it gets the chance to make it on a store floor or at a customer location.
One of the more common methods for securing pallet loads is to use stretch wrap. Film is tightly wrapped around the load, either manually or with equipment, to ensure products are properly unitized.
Muller, a leading manufacturer of both innovative equipment and film, has spent 30 years specifically providing pallet load containment solutions for various industries ranging from food and beverage to block and paver. It's renowned Octopus line of high-speed, automatic, ring stretch wrappers are a top choice of manufacturers looking to achieve greater flexibility and support while simultaneously reducing waste.
Inherent benefits offered by ring technology are further enhanced by the fact all Octopus models are designed to provide roughly 25% in film savings with the ability to tailor film tension settings and wrap patters. Ring machines have wrapping speeds ranging from 60-150 loads per hour.
For smaller manufacturing environments (with lower volume or tighter spaces), a turntable or robotic pallet wrapper may be a better choice.
Keeping in the stretch film family, another solution to consider is stretch hooding. Unlike traditional stretch wrappers, stretch hood equipment and film offered by companies like Lachenmeier works by protecting pallet loads from 5-sides (top and 4-sides). The wrap is placed over the load much like a bag. In environments like agriculture; stretch hood solutions are preferred for their seamless application process and additional protection.
In the end though, not all products require stretch wrap. Some actually may not need it at all. Another unique solution for proper load containment are solutions like Lock N' Pop's water-based cohesive that works by literally locking cases to each other on the pallet.
Stronger than stretch wrap alone and cold applied, the solution is safer than hot melt. It does not leave a sticky residue or harm packaging surfaces when unstacking/popping product apart.
Lock N' Pop further allows for heavy reductions in traditional packaging —stretch film, tier sheets, dunnage bags, corner boards, and more can be virtually eliminated.
In contrast and used throughout the world, plastic or steel strapping is incorporated to secure everything from cotton bales and newspapers to steel coils and corrugated cartons.
Signode has long pioneered the advancement of consumables and equipment for strapping. Similar to stretch wrap, strapping solutions can come in many forms and equipment is available as manual, pneumatic or battery operated. Straps can also vary and are available in steel, polypropylene or polyester depending on the application requirements.
To protect some applications from strapping damage, manufacturers might also consider edge protectors from Angleboard. The brand offers a wide range of sustainable protective packaging solutions for industrial and commercial shipping applications. In addition to providing cornerboards and edge protectors, Angleboard is also well known for its Reddi-Pac solutions like U-Board, which offers superior edge protection and beam stretch, and Plastic Packaging solutions, like separator or slip sheets for safely stacking semi-finished or finished products.
Downstream & Downriver
Whether wrapped, locked, strapped and stacked, some applications require a bit more cushion. When pallets are stacked next to each other on a truck bed, friction between loads can be problematic. For this we turn to Shippers Products' and dunnage airbags. Placed between pallet loads, solutions like the Gorilla airbags provide tremendous load force and lock loads into place.
For more custom dunnage solutions, Down River provides tailored solutions specific to individual cargo securement needs.
Another alternative to keeping loads from shifting during transport are friction mats like those provided by AIA. Placed on truck floors, the TransMat Rubber Friction Mats prevent and reduce load movement during transit while simultaneously eliminating the need for wood and nail bracing. It's also has the most AAR and transit load design approvals in the market.
But movement isn't the only thing that can damage pallet loads. Temperature fluctuations can also take a toll on more sensitive or perishable items. Insulated Transport Products offers a variety of patented products used for transporting frozen, refrigerated and dry goods—often even together.
For example, Insulated Bulkheads are used to create multi-temp zones in refrigerated trailers and Air Chutes can circulate air directly from the refer unit to the back of the trailer for single temperature applications.
Delivering Results
In the end, proper material handling can vary significantly but selecting the right solutions can ensure the upstream value is not lost during transport. When in doubt, companies like Signode Industrial Group can provide a single-source solution and proper guidance for most all load containment and protective packaging needs.