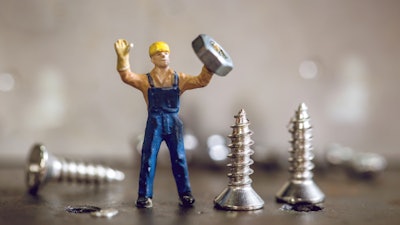 The manufacturing sector is undergoing a modern-day renaissance.
According to the National Association of Manufacturers, it's estimated that nearly 3.5 million manufacturing jobs will be needed over the next decade. However, almost 2 million of those jobs will go unfilled due to the ever-growing skills gap.
Even today, 80% of manufacturers report a moderate or serious shortage of qualified applicants for highly-skilled positions.
In an effort to combat this critical shortage, some companies are turning to an unlikely source: the booming freelance economy. While the term "freelance" is typically associated with writers or designers and the like, many industrial manufacturers are finding this new class of independent professionals to be tremendously valuable.
The On-Demand Economy Means More Talent
Recent reports suggest that nearly a third of the U.S workforce is freelancing in some form or fashion, and research firm Gartner expects that number to jump up to 50% by 2020.
The unprecedented rise of the so-called on-demand economy, often referred to as the sharing, gig, or freelance economy, is changing the way manufacturers source their talent.
As a matter of fact, it's changing the way most companies think about talent. Companies from all industries (technology, media, retail, etc.) are starting to capitalize on these millions of professionals who are now opting to work independently.
By better utilizing this expanding source of talented laborers, savvy businesses can embrace more flexible and variable labor models, designed to help them compete in today's economy.
Even companies like Samsung, the world's largest manufacturer of phones, are beginning to adopt leaner business models and reforming its culture in an effort to remain agile in a continuously adapting industry. Their top priority is, according to company sources, being able to drive greater worker efficiency and flexibility.
However, it's not just industry giants who benefit from a flexible labor model. Some small-to-mid-sized manufacturers are starting to capitalize on this new wave of highly-skilled workers.
While large companies are looking to use these talent pools as a way to scale costs and improve efficiency, smaller companies are leveraging these professionals to upgrade their capabilities and expand their presence.
As one specialist at Tormach Inc, a personal CNC machinery company, has noted in one of his recent articles:
Often, major manufacturing partnerships are still needed to develop billion-dollar companies, but those cumbersome organizations are beginning to feel the heat from start-up companies... Small-shop manufacturing and access to a democratized economy makes a valuable pool of opportunity for aspiring entrepreneurs.
Finding talent is important, really important. According to the 2016 GMCI report, "talent remains number one" among drivers of manufacturing competitiveness in the U.S.
Being able to secure highly-skilled contractors, across various locations, has become essential in modern day manufacturing. The question is not whether small manufacturers stand to benefit from utilizing an on-demand workforce, the question is now how can they get started.
Mousa Ackall is the Director of Brand Marketing for Work Market, the world's #1 Freelance Management System. He writes regularly about the intersection between technology, business and society. He has an MBA in New Product Development from the University of Kentucky and can be followed on Twitter @mousAAckall.