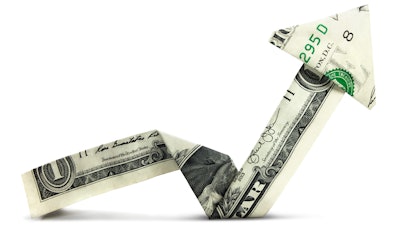 WASHINGTON (AP) — U.S. private-sector workers received the biggest pay raise in 11 years in the first three months of the year, a sign that the tight job market is slowly lifting wages. The Labor Department said Friday that its employment cost index shows wages and salaries in the private sector rose one percent between January and March compared with the previous quarter. That's the biggest gain since the first quarter of 2007, before the Great Recession began.
The gain was boosted partly by healthy year-end commissions that are typically paid to sales workers at the beginning of the year. The increase may also reflect other one-time factors, such as bonuses paid out after the Trump administration's corporate tax cut took effect.
In the past year, wages for private sector workers rose 2.9 percent, the healthiest increase since the third quarter of 2008. The unemployment rate is at a 17-year low of 4.1 percent and employers are hiring vigorously. Many businesses are struggling to find workers and they're offering higher pay as a result. Still, wages for private sector workers rose at about a 3.5 percent pace in 2007, before the recession hit.
Stronger pay gains could add to inflationary pressure on the U.S. economy. Investors are closely watching for signs that the Federal Reserve will raise short-term interest rates more quickly to cool rising prices. The Fed, which meets next week, has signaled that it may raise rates twice more this year, but some believe that if wages or prices accelerate, Fed policymakers may add a third hike.
The employment cost index measures health care and other benefits as well as pay. Overall compensation for U.S. workers rose 2.7 percent in the first quarter from a year earlier. That is also the fastest gain since the third quarter of 2008. Wages and salaries make up about 70 percent of total compensation, and benefits comprise the other 30 percent.
Other measures of pay have also risen, but at a choppier pace. Average hourly pay as measured in the monthly jobs report has increased 2.7 percent in the past year.