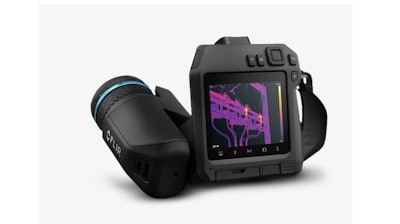 The T840 infrared camera from FLIR (Wilsonville, OR) is designed to help electric utility and other thermography professionals comfortably survey equipment both indoors or outdoors and seek out signs of failure all day long. Thanks to an integrated eyepiece viewfinder and a bright 4-inch color LCD display, the T840 makes it easy to conduct inspections outside in bright, challenging light conditions. Features include:
The 180° rotating lens platform and thoughtful ergonomic design, helping users quickly diagnose failing components in hard-to-reach areas.
A 6° telephoto lens option, available to ensure accurate temperature measurement of small targets from farther distances.
www.flir.com; 800-254-0630