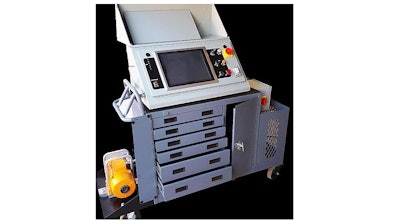 Among many challenges that manufacturing managers and engineers face is dimensional distortion that takes place during final machining, transport, or early use. Stresses revealed or caused by welding, casting, straightening, machining or those left over from heat-treating operations (often due to unequal cooling) can interfere with the intended design-shape of a precision component. Advanced VSR (Philadelphia, PA) offers the best in both vibratory stress relief equipment and services, plus pneumatically powered vibration during welding (VDW) equipment, to reduce welding distortion. Why an investment in an Advanced VSR system is a good choice:
Software plots not only workpiece amplitude vs. honest vibrator speed data, but also vibrator input power. This provides the operator the info needed to achieve the best practice VSR setup.

Super-low-noise, clean vibration data makes clear to the operator the steps needed to perform the VSR Process.
Only the newest technology components, from motor drives to PC's to motor technology.
System-wide plan to prevent excessive heat or vibration assures years of high-reliability performance, designed by PM (Preventative Maintenance) heavy-industry professionals.
Resonance-based vibratory stress relief is both most effective and fastest, as shown by independent research.
Learn more at IMTS booth #236584
www.advancedvsr.com; 215-366-3315