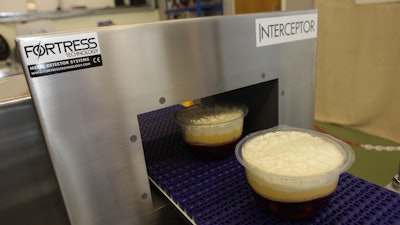 Fortress Technology (Toronto, ON) offers their Interceptor metal detector for wet food inspection. Features include:
Specifically designed to inspect meat, poultry and seafood, cheese, desserts, ready meals, bakery items and fortified cereals.
The ability to remove background interference to negate false positive readings in wet and conductive products.
By splitting and simultaneously analyzing the low-frequency and high-frequency signal, the Interceptor can differentiate between the signal generated by the product as a result of moisture, mineral or metal contaminant.
Units can be placed in different locations on production and packing lines, including apertures customized to a given conveyor.
Learns and recalls the signature of any given product with just one pass.
Wi-Fi or Ethernet connections can be used to collect data.