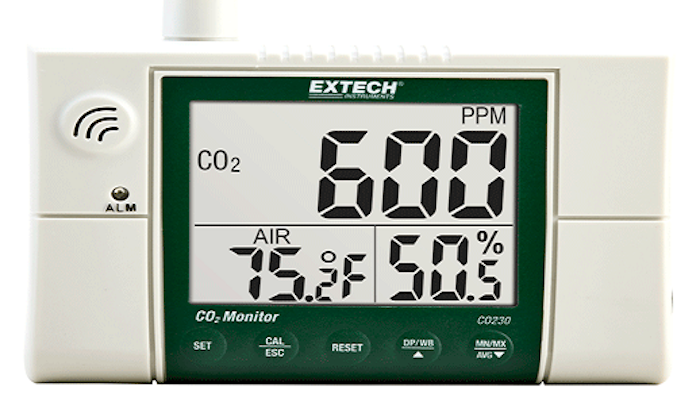 Extech Instruments (Nashua, NH) offers their CO230 multi-function Carbon Dioxide Monitor with features that include:
The ability to track numerous indoor air quality metrics.

A tabletop/wall-mount design that can alert occupants to inadequate ventilation.

A larger, three-way display for carbon dioxide (PPM), temperature (°F/°C) and humidity (RH%) measurements.




An Automatic Baseline Calibration (ABC) function that users can disable for locations with consistently above-average carbon dioxide levels (exceeding 400 ppm).

The ability to program high and low alarm thresholds that will trigger both a visible flashing LED alarm and an audible, less than 80 dB beeping alarm.




An external relay jack can expand the monitor's alarm capability to activate external devices like remote alarms or ventilation controls.

An eight-hour Time Weighted Average (TWA) snapshot of carbon dioxide readings.