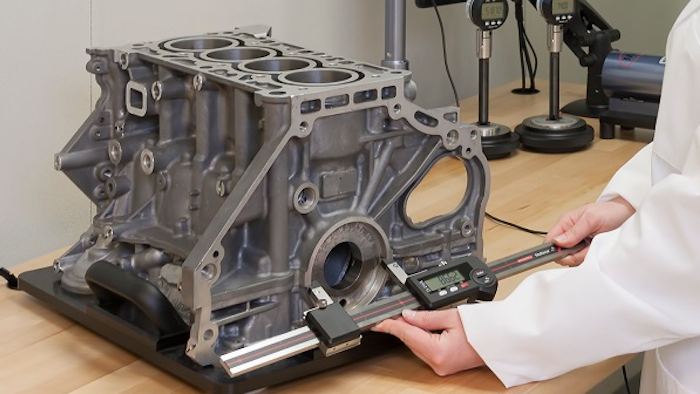 Mahr Federal
The new Multimar 25 EWR Digital Universal Caliper from Mahr Federal (Providence, RI) is a versatile and configurable caliper for ID and OD measurement requirements. Features include:
Availability in 4 capacities with outside measuring ranges up to 1,250 mm (50").

Suitable for measuring outside and inside dimensions, narrow collars, external and internal tapers, dovetails, grooves, distances between hole centers, for centering shoulders, and scribing work pieces.

The ability to move both measuring arms along the beam, thus functioning like a beam-gage, and providing weight distribution even with small dimensions.

The ability to reverse the interchangeable measuring arms.

A digital display with a patented mounting fixture to ensure visibility.

A range of measuring arms, anvils, mounting attachments and depth stops that can be configured by the user.

Anvils and tips available in a variety of shapes and configurations, including threads, flat and spherical shoulders, blades and round faces.

Depth stops that can be set to the exact measuring depth in the horizontal measurement position to provide precise support on the reference plane surface.

Data output is via USB, Digimatic, Opto RS232C, or wireless.

A battery life of about 3 years.

IP 65 protection.

Instruction manual, hardwood mounting and resting blocks, and a wooden case.
For more information, visit http://www.mahr.com; or call 800-343-2050.