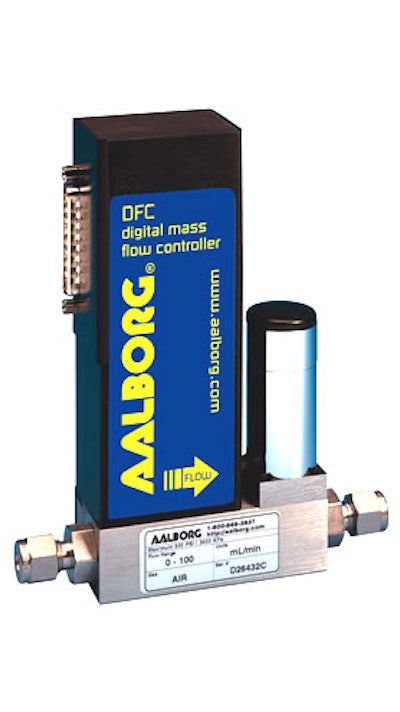 Aalborg
AALBORG's (Orangeburg, NY) on-board microprocessor-driven Model DFC Digital Mass Flow Controllers allow users to program, record, analyze, and control flow rates of various gases with a computer via an RS-485 interface (or optional RS-232). Additional features include:
Programmable for set point, totalizer stop/read, auto zero, flow alarms, and flow configurations.
An auto tune function that provides control response.
Self-diagnostic tests that ensure that the unit is in optimum working condition.
On-board memory that enables controllers to store primary calibration data for up to 10 gases.
The ability to be calibrated for multiple gases while maintaining the rated accuracy on each.
Conversion factors for 256 different gases.
± 1% FS accuracy at calibration temperature and pressure.
Digital and analog modes that operate simultaneously.
Valve override via analog or digital interface.
Flow set point, measured gas flow, and associated totalizer data scaled directly in engineering units.
Optional digital display.
For more information, visit www.aalborg.com; or call 845-770-3000.