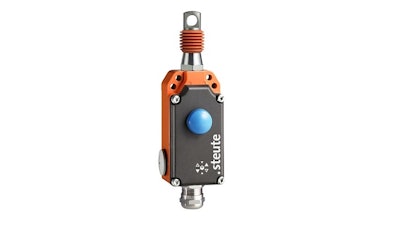 The Series ZS 71 emergency pull wire switch from Steute (Ridgefield, CT) is equipped with snap-action, NC positive-break contacts, providing a safe, reliable means for initiating an emergency stop along the length of the installed pull-wire. Features include:
Wire pull and breakage detection.
A maximum pull wire length of 35 m.
Switching System: Snap-action, positive-break NC contacts.
Contacts: 2NC and 1 NO with double break.
Contact Material: Silver.
Connections: Screw connection terminals.
A rugged, corrosion-resistant, powder-coated, die cast aluminum housing.
Ingress protection ratings: IP66, IP67, IP69 and IP69K.
Integral pushbutton release.
Mechanical Life: > 100,000 operations.
www.SteuteXtreme.com; 203-244-6304