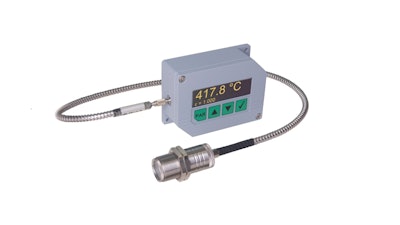 Process Sensors (Franklin Lakes, NJ), the IR Temperature Division of KPM Analytics, introduces its newest fiber optic two-color pyrometer, Model PSC-GRF11N. This digital ratio pyrometer series is designed for lower starting temperature measurements beginning at 300°C (572°F). Four temperature ranges are offered: 300 to 1100°C, 350 to 1300°C, 400 to1600°C, and 500 to 2300°C. The Model PSC-GRF11N operates in ambient temperatures up to 250°C (482°F) and is immune to high magnetic frequencies encountered in manufacturing facilities. Specifically:
Independent of emissivity and spanning a wide range of demanding industrial applications including induction heating, heat treating, steel and other metals, composites and ceramics, as well as semiconductor processing, the fast 5ms response time of the PSC-GRF11N is ideal for quick measurement processes.

A selection of variable focus fiber optical lenses provides small spot sizes from 0.7mm in diameter.

An integrated sensor laser provides for precision aiming onto the center of the target. The linear temperature output signal of 4 to 20mA simplifies installation of the PSC-GRF11N into existing measurement and control systems.

Each device is equipped with a galvanically isolated RS-485 Modbus RTU interface, allowing the setting of parameters and software evaluation in bus systems as well.