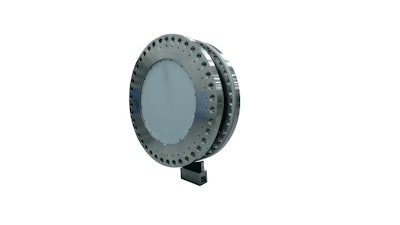 S. Himmelstein and Company (Hoffman Estates, IL) announces the MCRT 86011V Series Bearingless Digital Torquemeter which provides best protection with significant mechanical overloads. These large capacity models are available with 500, 750 and 1,000 kNm torque ranges. Available outputs include analog, digital and FM Data. The MCRT 86011V has the industry's highest electrical overrange at 150%.
The MCRT 86011V doesn't require tight restrictions on rotor runout. Allowable clearances permit significant thermal and mechanical growths which are commonly experienced in large machine installations. Features include:
0.1% combined nonlinearity & hysteresis.
Torque bridge carrier amplification.
0.003%/°C compensation.
10 units of measure.
14 Bessel data filters.
48 μS max/min update.
3 kHz measurement bandwidth.
Zero velocity speed pickup option.
www.himmelstein.com; 800-632-7873