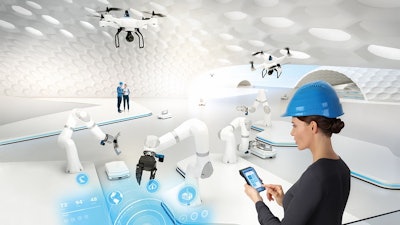 Under the motto "Driving your industry 4ward", SICK (Minneapolis, MN) recently presented its own smart factory producing batch size 1 and serial products on the same line at the Pack Expo International Show in Chicago, IL. This flexibility in production and logistics has been made possible by sensor intelligence: programmable and self-learning cameras, reliable safety sensors for human-robot collaboration, and complete solutions for navigating autonomous guided vehicles. All these devices are connected with one another via the cloud, implementing Industry 4.0 along the entire value-creation process. Specifically:
Decentralized intelligence in the sensors (edge computing) forms the basis for flexible control of production processes in the smart factory. Additional cloud intelligence in the form of data analyses and applications (apps) allow the use of self-learning mechanisms in the sensors, increasing their adaptability to production-related changes.
Logistical processes in the smart factory are just as flexible. The supply chain is taken over by driverless transport systems (with autonomous navigation) together with collision prevention solutions. The data from all the sensors in the smart factory are evaluated on a large display, providing a constant overview of logistical and production processes as well as key performance indicators.
The SICK AppSpace, software for creating and administrating customized application solutions, was also seen in use. In collaboration with Robert Bosch GmbH, programmable cameras from SICK take over application-specific quality control tasks in a tooling machine with the aid of AppSpace and transfer the data directly to a management cloud to ensure continuous process quality.
www.sick.com; 800-325-7425